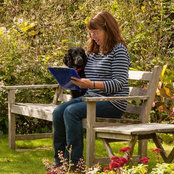 ann balmforth GARDEN DESIGNS
Commented: Garden design ideas needed
I would also sink the trampoline into the ground (just below ground level) so that it is hidden but still a safe play area.
Commented: Shady front garden woes!
You haven't said whether your soil is alkaline/acidic/neutral, and clay/chalk/sand/loam, but you could also try Pachysandra terminalis, Hellebores (red, pink, white) and aquilegia. (http://www.crocus....
Commented: Front Garden Planting Advice Please!
It looks a very good start. Now think about adding more interest to the gravel, perhaps by interspersing the 'lollipop trees' with neat but interesting shrubs. These could be scented such as Sarcocc...
Commented: Japanese garden
Ah that explains it. Last year I trialed sheet (Hypnum) and cushion (Leucobrynum) mosses in my garden but unsuccessfully as I have alkaline chalk and really they prefer acidic clay :-( Also my puppy...