Spliting up a large bedroom with Period trims
Hi all,
We are moving into a Large Georgian house with all it's period features intact. The house is gorgeous and while it needs alot of work to make it a modern home. It has a vast amount of potential.

One of the spaces i am struggling to design is the Master Bedroom. The Master Bedroom is 17' 3" x 16' 8" ( 5.26m x 5.08m ) with massive period ceilings. It has Coving, Picture Rail and Dado and ceiling Rose all of which are original features. Then in the middle of the back wall there is a feature fireplace.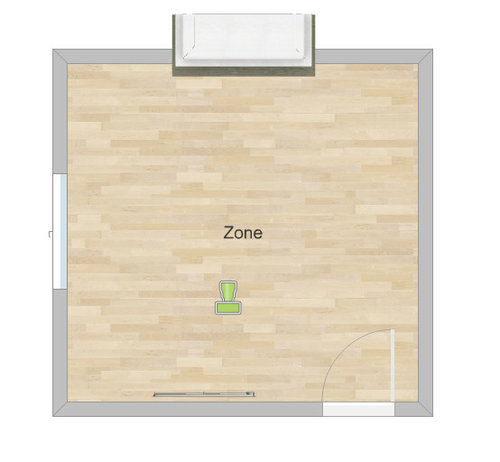 The room feels massive, open and cold. It feels to big to be comfortable yet when you draw it out on paper you realise 17ft isnt that big, yes it's pretty big but now-where near as massive as it seems. I think the high ceilings have something to do with this and the fact that the previous owners only had a bed and a double wardrobe in the room.
So first question, the feature fireplace has a simple marble mantle and frontage (don't know if that's the right term' so it's all blocked off there is no fire in place nor place to fit one however the chimney breast does run up the outside wall from the living room past where this sits. So i suspect you could rip out the decorative mantle and put in a working fire if you wanted but im not sure i feel the need to get a fire in the bedroom working. . The fire in the lounge is currently electric so i suspect the chimney has been blocked off.
How much work is it to replace the downstairs fire will a log burner or similar and get the chimney working again? will it be possible?
Mostly im struggling with the space, we are on a tight budget so i can't go crazy but we have enough to make some modifications
i would love to install an ensuite but with the placement of the fire/windows/doors im not sure there is a place to fit one, also the period features all make it complicated. I can't just stick a stud wall up and hope for the best because it would cut into the picture rail and coving as it reached the ceiling and i don't want to de-value the house or ruin one of the features which drew me to it. (the coving is very ornate with beautiful plaster flowers on it)
So i think im going to have to rule out an ensuite but same goes for built in wardrobes, the ceilings are sooo high... the wardrobes they have now are the tall 2m high ones but they barely reach the picture rail and there is so much space above them it looks really odd and if anything it just draws your eye's to how high the ceiling is. it feels like all the furniture in there was stolen from a dolls house.
The room is for me and my husband i want it to be a cozy bedroom space, we spend alot of time in the bedroom as we often have an early night to watch a film and the bedroom is the only space thats 'ours' without kids in and out constantly. Also my husband is a big reader so i want it to be a relaxing quiet place where he can chill with a book.