ICE Design Imaging Software
Interactive 3D Platform for Designing Specifying and Manufacturing
Knoll and Allsteel are doing it and so are Gunlocke and HON. They're following DIRTT's lead in using ICE® design imaging software to create online, user-friendly catalogs that make office furniture design and specification child's play.

ICE melts into other computer programs (including AutoCAD), seamlessly integrating with building modeling software. Contract furniture manufacturers are discovering that moving their design data onto the ICE platform speeds up the entire design process with clients.

ICE creates an online catalog of possibilities, allowing designers and clients to sit down and work their way through a building design. Clients can visualize the interiors of their workspaces, make changes to suit individual preferences, and ascertain what their dream designs will cost—all without leaving their offices.
Interactive, Comprehensive, Expert: ICE
Created by Ice Edge Business Solutions, the software was pioneered by DIRTT Environmental Solutions to improve design and manufacturing of its movable wall systems. ICE reduces the opportunity for human error in the specification and ordering processes by carefully matching design choices with specific parts and product lines.

All of the project information is captured in a single file and single dataset; there is no audit process required to make sure the drawings match the price quote, or the 2D plan matches the 3D mockup. ICE creates complete elevation drawings and details instantly and integrates directly with the manufacturer's financial system.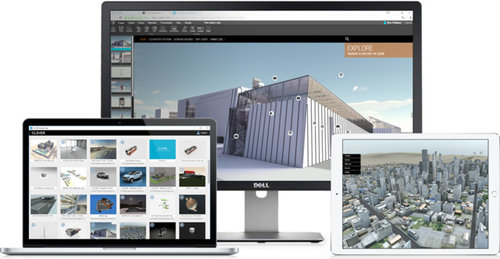 ICE has revolutionized the entire design and manufacturing process for movable and reusable walls at DIRTT, from first concept to specifying minute details for fabrication. Delivery times for orders have been cut to four weeks thanks to ICE. That's four weeks from order entry to the back of the truck for shipping. It is possible to design, cost and engineer all in one software.
Involving the Client in the Design Process
Transferring a furniture manufacturer's inventory to ICE results in a paperless catalog that can be interacted with online by designers and clients alike. This facilitates involvement of occupants in the design process, raises client satisfaction levels and reduces costs.

ICE makes it possible for a client in one city and a designer in another to collaborate on the design of walls, arriving at a look that suits both parties. The software quickly calculates the cost of components and creates photo-realistic renderings, enabling same-day decisions about product selection.

When ICE is complemented by ICEvision, viewers can use custom vr software to take a virtual 3D tour of their proposed workspace, navigating from one room to another. No other software allows this kind of user-friendly interface between designer and client.
Benefits of ICE
Reducing mistakes in pricing and fabrication was difficult in older manual systems. ICE eliminates manual steps in the specification process and has completely eliminated the need for CAD review; it has also virtually eliminated the need for building mock-ups. Using ICE results in a product that consistently matches what the designer expected.

Manufacturers of solutions for the interiors industry such as Gunlocke, Allsteel, 3form and Skywell Software are reaping the benefits of putting their products on the ICE platform for their sales process, specification and manufacturing. Switching to online catalogs has enabled these businesses to improve customer service and realize greater efficiencies for their day-to-day operations.