New ground floor plan, please criticize my indecisiveness..
Years along, and not any further with re-modelling the ground floor of the house.
Typically, I had a "revelation" in the middle of the night and changed everything, the great news is it should be easier, cheaper, the husband "says" is on board with it. I'll show you, and ask what you think...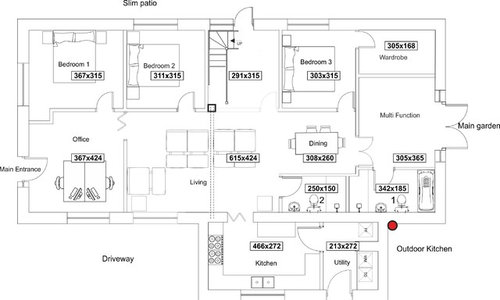 The desperate priorities are:
1) More than one toilet!!! (purchased as a 5 bed, 1 bath... ludicrous, and there are only 2 of us and a teenager and still drives us crazy)
2) Keep a fail-safe / some value if the loft conversion never happens (so, no, still no stairs), however, we do have structural engineer plans for the requirements/support required on ground level in all this.
3) better access through to the main garden.

The way I see it, is the above, without the loft done, could easily become a 5 bed, TWO bath house, along with the larger living room than it originally had, dining area, plus office/reception space, separate laundry and a LOT done outside including outdoor kitchen etc.

Would you market this as a 5 bed if the wall/door was studded in instead of stairs, and declare the "multi function" as a bedroom?

... or would you think it worth it to remove that "bedroom" option in the "stairwell" and actually make Bedroom 3 bigger by building the wall further into it? This would also allow for no need for a dressing room taking away from the end room too.

Dining room.... sufficient dimensions? bearing in mind it's also a walkway.

All the walls are solid blockwork so moving them and putting in doorways is quite some effort.

So,.... here is the existing layout. In red, you will see we had already put in a new lintel and door off the dining room into the bedroom. It was planned to be a bathroom, but decided the reason nothing has happened due to the location away from the red dot/sewer outlet on above pic, which is where the bathroom is below, was too daunting. Never mind, I will remove the door and put up some stud/plaster I guess.