Kitchen Circulation Question
Dear Houzzers,

We are planning to dig a basement in London SW11. We are planning a hanging staircase in our kitchen area (as there is a skylight running across that side as depicted in the image below).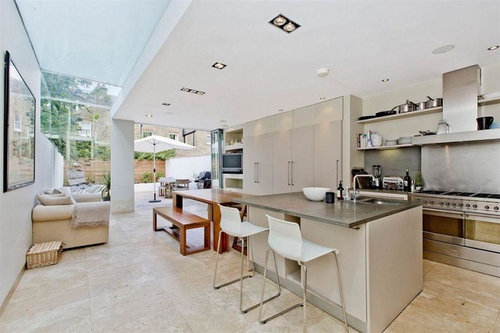 We thought putting the hanging stairs there would take the light down and give us a double length ceiling for a portion of the wall. The downside is that it kills some space on our ground floor but the upside is that, given the amount of light that will pour through, the basement will feel less like a basement and the kitchen/sitting room on the ground floor will feel like a continuous space with the basement, which will be a play room for the kids.

Given the glass pane on the ground floor and the underpinning on the basement, our stairs going down will need to be about 110 cm wide (if we don't want the balustrade to go into the window pane, but happy for Houzzers to tell us that's nothing to worry about!). This means the distance between our island and the balustrade will be 90cm (if we assume island is 120cm wide) and there is 100cm distance between island and cabinets (which will be 60cm wide themselves). Ground floor plan (and basement plan, for completeness) included.

Would the above distances be enough for circulation around the kitchen or should we reconsider? Any thoughts greatly appreciated.

Any other comments/suggestions/insights on the design more generally also welcome!

Many thanks! :)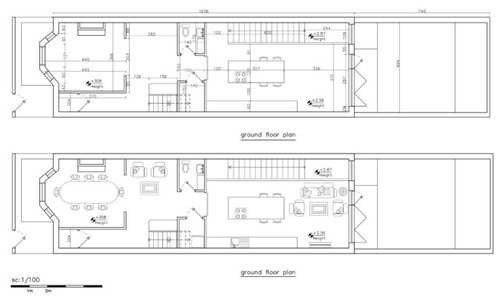 Basement will be a play room for the kids and a projector for movie night. The room in the hallway will be a utility room and storage. The room will primarily be a guest ensuite / spare bedroom.