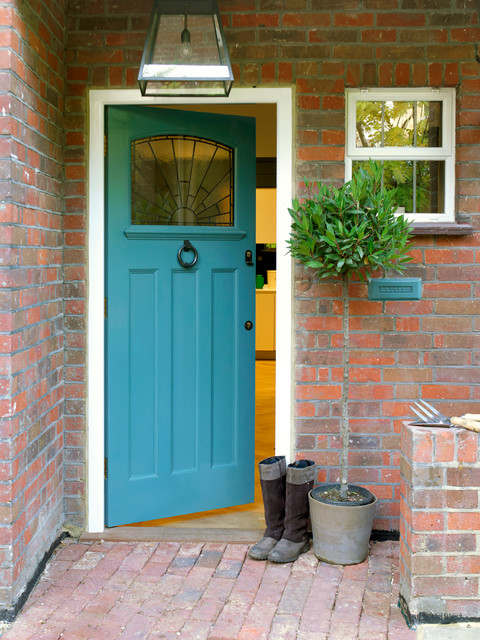 1920's Remodel and Basement Extension
Transitional Entrance, London
This welcoming front door is a modern reproduction which is in keeping with the 1920's heritage of the house. The lantern is an effective but stylish way to light the area.
CLPM project manager tip - invest well. Front doors should be well made and thermally efficient, as well as stylish. If you live in a rural location or your door is hidden from view then do consider additional security.
Photo of a small classic front door in London with a single front door and a blue front door. — 
Houzz
What Houzz contributors are saying:

Cheryl Freedman added this to How to Choose a New Front Door
27 May 2019
Consider the materialWhen it comes to selecting a material for your front door, the obvious choice is wood, but this isn't the only option. "There are many different types of doors on the market today, ranging from composite, aluminium, solid wood and even cladded steel," Victoria Viro says. "The best option is to go for a material that's low-maintenance, so there's less hassle in the future."Joe Halsall adds: "Timber doors offer strength, but wood is more likely to warp, expand or contract when exposed to the elements, which can make a door draughty or difficult to open. Wooden doors may also need treating for rot or discolouration to the finish."If you decide on a timber door, Accoya can be a great option, Jarek Musial says. "It's a [modified] high-performance, long-lasting and sustainable timber that's perfect for front doors. It also exhibits excellent paint-retention properties, and its flat, smooth grain provides the perfect canvas for paint," he adds.

Meera Innes added this to 10 Beautiful Blue Front Doors
24 May 2015
Go punchyIf you're looking for a statement blue, this could be it. Cerulean is such an unexpected but lovely hue for a front door that's both cheery and sophisticated. Get inspiration for decorating the rest of a 1930s semi
Entrances with Similar Colours