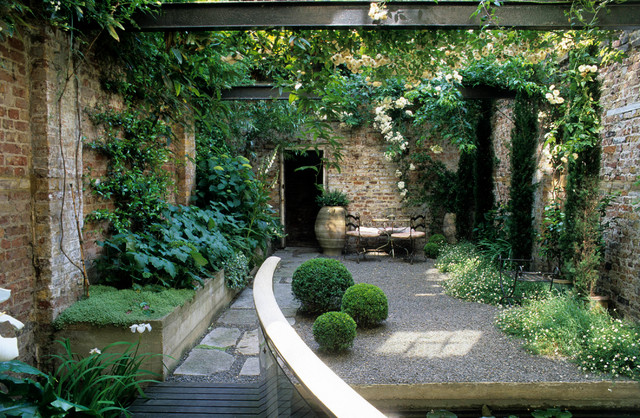 21 Wilkes Street
Industrial Patio, London
Photo by Marianne Majerus

Urban courtyard patio in London with gravel, no cover and a living wall. — 
Houzz
What Houzz contributors are saying:

Lauren Dunec Design added this to 9 Design Tips to Enhance Views of Your Garden from Indoors
4 March 2021
Consider the foreground and backgroundSimilar to how an artist might think about the composition of a painting, consider the overall composition of your window view. Separate the elements close to the viewer from those further back in the space. For close elements, it's all about the details. You could group a cluster of small pots or a small fountain just outside a window, or frame the foreground of a garden view with a flowering vine planted nearby.Find a landscape contractor near you to create a picture-perfect outdoor space.


Annie Thornton added this to 12 Romantic Courtyards and Walled Gardens
10 July 2017
1. Location: LondonWhy we love it: In this back garden, water features, clipped hedges and rambling roses conceal what once was a fur factory. Steel beams and brick walls, remnants of the original building, peek out from beneath the lush greenery, barely hinting at this garden's previous life. "It is the very tight composition of the x, y and z axis [vertical, horizontal and longitudinal axis] that creates the drama and always allows the garden to look good, however overgrown or out of control the planning might get," Wheeler says.How to Design the Cosiest Outdoor Space