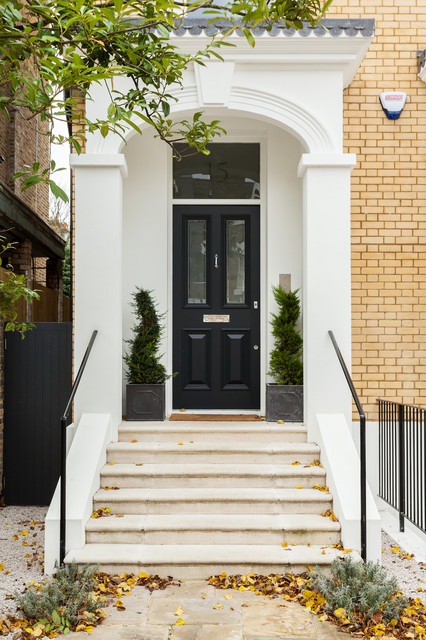 Advantage Basements London
Traditional Entrance, London
Photo of a traditional entrance in London with a single front door and a black front door. — 
Houzz
What Houzz contributors are saying:

Laura Wheat added this to Lifestyle: How to Survive Having the Builders In
18 October 2015
Give the builders a keyOne of the worst things about having work done on your house is the sense of intrusion. However much you like and bond with your building team, it's still odd having people in your home day after day. Release yourself from the responsibility of having to be there to let them in by lending them a key. At least then you can run away (for a while) when it all gets too much.Discover what you may be able to build without requiring planning permission

Coral Interiors added this to Styling: Where to Spend and Where to Save When Selling Your Home
17 September 2015
Get some kerb appealSave A bit of elbow grease may be all that's needed to improve that important first impression of your home. Is the front door cobweb free and gleaming? Does the doorbell work? Add a smart and inexpensive house sign with a clear name or number. It's really off-putting for buyers to struggle to find your home. Spend Do invest in a pair of pots either side of your front door, containing a healthy evergreen shrub, or a hanging basket or two in spring and summer. Add some outdoor lights for winter viewings – some fairy lights in a tree or solar lights to line the path.

Meera Innes added this to 10 Ways to Make Your House Number Extra Stylish
22 May 2015
Go for a subtle statementDécor doesn't get much more understated than etched glass. Use this to classy effect on your front entrance as an alternative to hardware – it might be subtle, but it'll turn heads. If you already have a plain glass fanlight, consider applying frosted window film with your house number cut out of it.