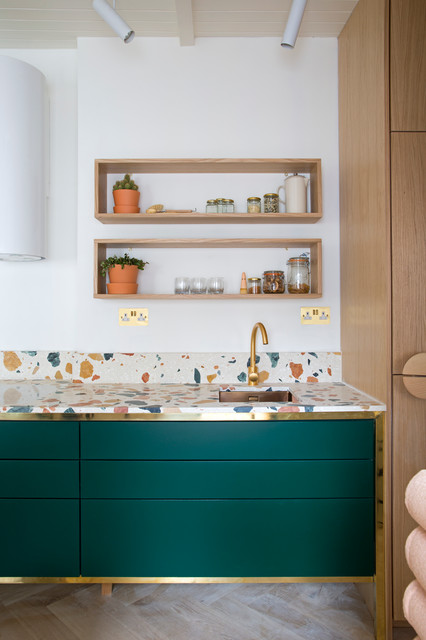 Apartment, Notting Hill
Scandinavian Kitchen, London
This is an example of a scandinavian kitchen in London. — 
Houzz
What Houzz contributors are saying:

Kate Burt added this to 9 Design Mantras We Struggle to Follow... and Why That's OK
7 June 2017
The Mantra: Don't follow fashion There's a lot of sense in the advice about avoiding 'fashionable' purchases, which will surely date. But how to resist, say, that heritage-style kitchen painted in the blue that everyone loves right now when it's so gorgeous? And surely it'd be perversely self-flagellating to deny yourself that expensive, oversized bare-filament bulb/those handleless plywood cabinet doors/brass bathroom fittings (delete or embellish according to your taste). How to give yourself a break: Take this wonderful terrazzo worktop: it's a look that's hugely 'on-trend' right now. Does that mean it should be avoided? Not if it makes your heart sing, no way! The only rule is to really love it. Love it so much that you enjoy it until it hits the mainstream, leaves the shops, becomes deeply unfashionable… and comes back into fashion again in 20 years' time.

Laura Wheat added this to 10 Interiors Trends Making a Comeback
2 December 2016
Moving on from marbleWhile there will always be a place for the delicate beauty of Carrara and Calacatta marble, other varieties with more dramatic veining and warmer colours are seeing a spike in popularity. Charming terrazzo is also making a comeback. This mosaic mixture (popular in the mid-20th century) was originally made by mixing discarded pieces of marble with clay, but can contain chips of glass, stone or quartz, which are set into resin or concrete. Look out for terrazzo-inspired worktops, walls, floors and accessories.
What Houzz users are commenting on:

Kitchens with Similar Colours