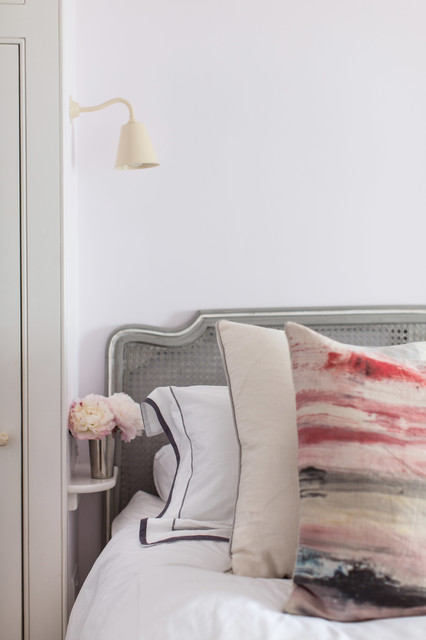 Beach House - Cornwall
Coastal Bedroom, London
This is an example of a nautical master bedroom in London with green walls. — 
Houzz
What Houzz contributors are saying:

Victoria Harrison added this to How to Fit a Bedside Shelf into Even the Tiniest Bedroom
18 October 2016
Squeeze in a micro shelfThink there isn't even room for a shelf? Think again. When a bed has to be squeezed next to a wardrobe, it can seem as if there isn't any room for bedside storage, but this teeny-weeny shelf attached to the side of the wardrobe is a clever solution. The curved edge is a safer option if space is tight and the shelf is close to the bed out of necessity.Admittedly, displaying a vase of flowers here might not be terribly practical if this is a room that's used every day, but this dinky shelf would be the perfect size for a phone or alarm clock.

Jo Simmons added this to 10 Small But Perfectly Formed Bedrooms
12 September 2016
Bin the bedside tablesIn a small bedroom, traditional combinations of furniture often won't work, or even fit! So rethink how you kit out the space. One easy sacrifice to make is losing the bedside tables. Remove these from your scheme and you might be able to install wardrobes right up to the bed, as here. Then simply fix wall lights and basic shelves to the wardrobe sides and they will do the job of a bedside unit without eating into precious space.

Jo Simmons added this to How to Share a Small Bedroom – Without Falling Out
21 July 2016
Prioritise good lightingAny small space will benefit from good lighting, which will help it to feel bigger, brighter and more inviting. Bedside lighting that can be operated independently of any ceiling lights and is available to anyone lying in bed is crucial. It will illuminate a bedtime book and also allow one person to keep their light on and read while the other dozes off. If space is tight by the bed, fit wall lights instead of using table lamps. Directable spots work particularly well, shining a beam onto a book, without greatly boosting the overall light levels in the space.
What Houzz users are commenting on:
Bedrooms with Similar Colours