7 Brown Home Design Ideas, Pictures and Inspiration
Photo of a contemporary kids' room for girls in Oxfordshire with medium hardwood flooring.
It would be a good 8 year old bedroom - j00m
Nick Smith
Small contemporary gender neutral children's room in London with multi-coloured walls, light hardwood flooring and beige floors.
Tapisserie : arbres et étoules - michelemodin
loft 88
Photo of a large contemporary children's room for girls in Milan with white walls and dark hardwood flooring.

bluetomatophotos | ©Houzz España 2017
Medium sized traditional gender neutral children's room in Barcelona with beige walls.
Bunk bed - vivikalava
Photo of a medium sized classic toddler's room for girls in London with pink walls, carpet and white floors.
like the scalloped pelmet for Anna's room - webuser_827383623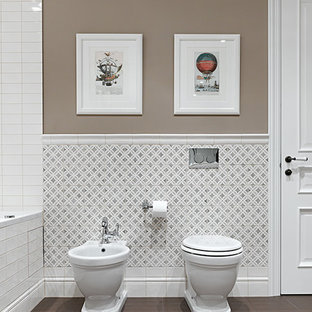 Interior Design by Inna Tedzhoeva and Zina Broyan (Berphin Interior), Photo by Sergey Ananiev / Дизайнеры Инна Теджоева и Зина Броян (Berphin Interior), фотограф Сергей Ананьев

Contemporary terrace and balcony in Moscow.