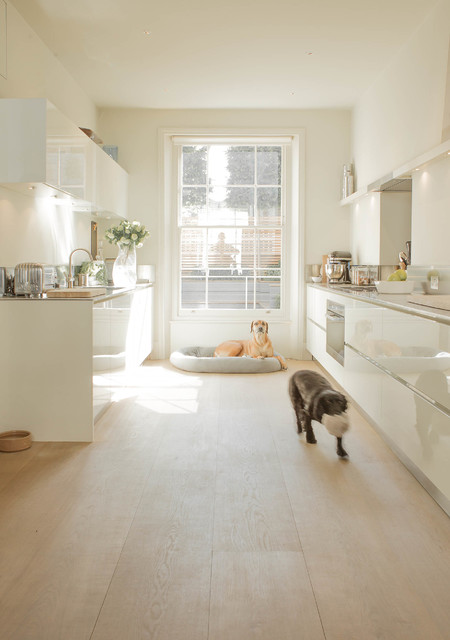 Chelsea House
Transitional Kitchen, London
George Sharman Photography
Photo of a traditional kitchen in London. — 
Houzz
What Houzz contributors are saying:

Amanda Pollard added this to 9 Ways to Declutter And Organise Before a Home Renovation
7 February 2017
Think about daily routinesMost home remodelling projects inevitably involve some disruption, so plan ahead for changes to your daily routine. If you're having your kitchen renovated, you could think about setting up a mini cook station elsewhere in the house. This could be something as simple as a table and microwave.Alternatively, you could arrange to stay somewhere else for a while. Pets might also need a place to go, so ask a friend if they will help out, or research reputable pet sitters in your area.Follow this complete guide to project managing a kitchen renovation

Victoria Harrison added this to 11 Dogs That Have Better Beds Than Us
25 October 2016
The sunbatherWarmth, so much warmth. I want to get up and retrieve that ball, but I'm just too cosy here underneath the window in a pool of sunlight. This cosy spot is perfect for keeping an eye on the kitchen, and if the owner is doing a spot of baking, I like to offer emotional support from my bed. Inspired by The Great British Bake Off, I like to bark out my thoughts every now and again: a little less baking powder here, a little longer in the oven there… It's safe to say there are no soggy bottoms in this kitchen.

Amanda Pollard added this to 11 Ways Your Home Can Make You Happier
26 July 2016
Share it with animalsWant to instantly de-stress after a long day? How about curling up on the sofa and stroking your pet. Studies have shown that the simple act of cuddling an animal releases the chemical oxytocin, which makes us feel calm. The benefits don't stop there though. By keeping a pet at home, you'll have the opportunity to form a new relationship with another creature, and hopefully you'll be rewarded by lots of fun and cuddles.
What Houzz users are commenting on: