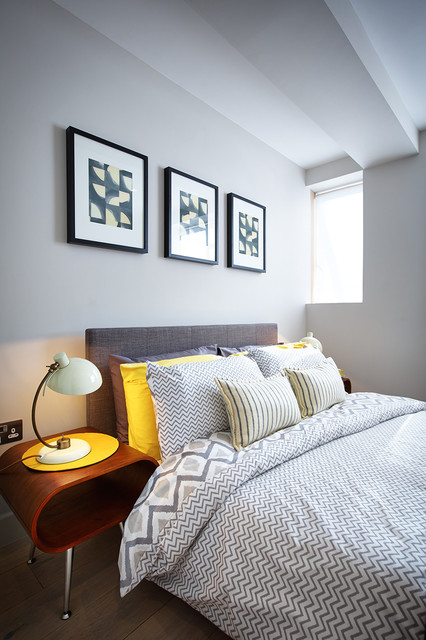 Chevron Show Apartment
Contemporary Bedroom, Hampshire
Design ideas for a contemporary bedroom in Hampshire. — 
Houzz
What Houzz contributors are saying:

Rise Art added this to How to Make the Most of Art in the Bedroom
4 July 2016
Try the triptychThese neat but bold square framed artworks are geometric, and subtly match the bed linen to create a sense of balance and harmony in the room. Triptychs are a safe option, and you can have three identical works or mix it up. The key is to keep some sense of uniformity in terms of size, framing or theme. You could go for three different pieces, potentially from three different artists, that look good grouped together as a triptych, (look for a common theme to tie them together, or select artworks with coordinating colours or shapes). Or if you love to match, simply stick to a set.Creating a stylish display? Discover why three is the magic number

Sophie Baylis added this to How to Choose the Perfect Bedding
16 September 2015
What is tog rating?This refers to the thickness of a duvet and how effective it is as a thermal insulator. 'Lightweight duvets will have a lower tog rating, usually starting from around 1.5 – 4.5, which is recommended for warmer evenings when staying cool is vital for a good night's sleep,' explains Katie Watson of Fishpools. 'The higher the number, the better the duvet filling's ability to trap air and keep you warm and snug. For extra warmth and softness, a tog rating like 13.5 is the perfect choice. There's also the option of all-season duvets, which combine two separate detachable duvets such as a 4.5 and 9 tog to suit your needs all-year round.' Remember that duvets filled with natural materials – see below – have better thermal regulating properties, so often require less filling to achieve the same warmth as a synthetic-filled duvet.Read 10 tips for choosing the perfect bed linen

Sophie Baylis added this to 10 Tips for Choosing the Perfect Bed Linen
24 July 2015
Mix it upIf you prefer fuss-free bed linen, choose a man-made material such as a polycotton mix – a blend of synthetic polyester and natural cotton. 'Easycare polycotton is a great option for people with a busy life looking for bed linen that requires minimal care,' explains Mooney. 'It's comfortable to touch, dries quickly and requires little ironing, so it's a great solution for families and works well on children's beds.' To make sure the bed linen you buy is good quality, look for a thread count of at least 180 to help guard against any wearing and pulling. 'Always choose the option with the larger cotton quantity, so you have a higher amount of natural fibres compared to man-made,' advises Hood.