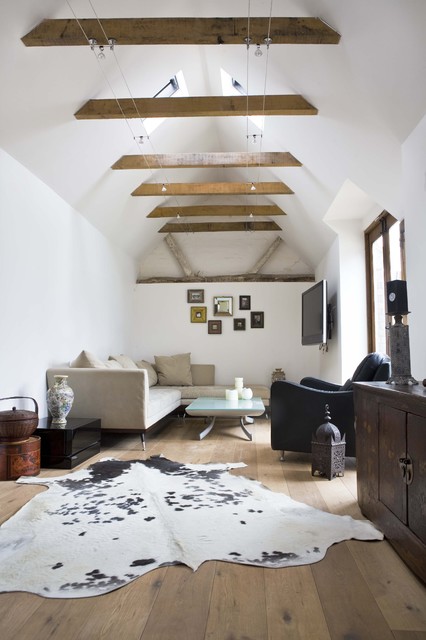 Eclectic Living Room
Country Living Room, London
An eclectic mix of antiques and furniture feel at home in this light-filled farmhouse conversion.
www.adriennechinn.co.uk
Photos: Magdalena Plewa-Ould
Rural living room in London with white walls. — 
Houzz
What Houzz contributors are saying:

Lara Watson added this to A Beginner's Guide to Managing an Interior Design Project
21 March 2016
Factor in a contingencyEven with the very best of intentions, there will almost always be issues that arise during your project that you couldn't have predicted. So it's a good idea to factor in a 10% contingency within your budget for these matters, especially with old buildings. Who knows what condition the walls are in behind those kitchen cabinets before you rip them out? Or what might be lurking underneath that carpet when you pull it up? In these situations, it's important to expect the worst and don't let it throw you off your game. You are a project manager extraordinaire and you've totally got this. Just accept these things happen, find out what the options are and make a decision. Your contractor will be able to advise on what to do, so harness their expertise and trust them to help you find the right solution.

Probuild360 added this to Ask a Builder: What to Consider When Thinking About a Garage Conversion
27 November 2015
Sort the foundations, substructure and superstructure To turn a garage into a living space, the garage door will more often than not be filled in with masonry (possibly including a window and door). If the walls of the garage are single skin or otherwise structurally inadequate, you may need to build a new external leaf of masonry, generally with a 100mm-150mm insulated cavity. If this is the case, the footings will need inspecting (by way of something called trial holes) to ensure they're up to quality. If not, new ones will need to be installed. The best way to know whether your building is good to go is to have a professional come in and take a look at it for you. This could be a builder, or an architect who might then instruct a builder if any physical exposure (drilling, cutting, digging and so on) is required.

Karen Wilson added this to Dream Spaces: 10 Barn Conversions With a Touch of Magic
3 July 2015
Be subtle with lightingAs the beams are the stars of the show in this barn conversion, the owners chose track lighting that unobtrusively highlights their beauty. As the fixings can be attached to the walls on either side, there's no need to drill into and potentially damage the original wood. The simplicity of such lighting allows the fabric of the building to truly shine through.Read expert advice on lighting up wooden beams and barn-style ceilings
What Houzz users are commenting on:
Living Rooms with Similar Colours