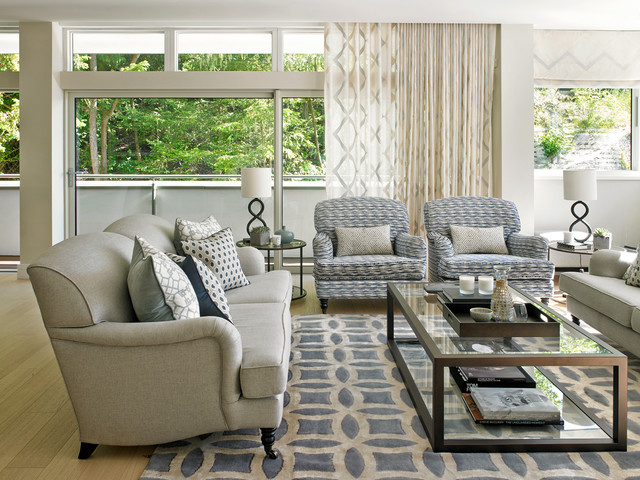 examples
Transitional Living Room, London
Nick Smith www.nsphotography.co.uk
Designer:Susan Venn
Inspiration for a classic living room in London. — 
Houzz
What Houzz contributors are saying:

Amanda Pollard added this to Quick and Easy Steps to a Clutter-free Home
11 June 2018
Purge a coffee tableCoffee tables are not only magnets for all manner of living room detritus, they also sit in the middle of the room displaying their disorganisation for all to see. Take back control with a swift sort-out. Remove everything and scrutinise items on a case-by-case basis. Do you really need this? When was the last time you looked at or used it? Does it need to be here, or could it be stored away elsewhere? Display small items, such as remote controls, eye glasses, candles, notepads and books, on a shallow tray. Rediscover the tabletop and clear space for coffee cups or even a fruit bowl. If your coffee table has a lower shelf, use it to store a neat pile of magazines and books.

Amanda Pollard added this to 10 Ways to Arrange the Furniture in Your Living Room
23 October 2017
Harness the power of two plus twoThis is a twist on the two sofas layout, with two extra armchairs brought into the mix. It's a good way to ensure you have enough comfortable seating for guests, or if your two sofas are on the compact side.In this open-plan space, the square layout helps to create a cosy seating area, but the two armchairs work well as they break up the perimeter.

Amanda Pollard added this to 11 Ways to Style your Coffee Table Like a Pro
11 October 2016
Bring a tray into playTrays are the perfect way to create order on a table. By gathering disparate objects onto a small platter, you visually anchor them and create an attractive grouping. Consider the finish of the tray and contrast it with the surface of the table. In this case, the glass table perfectly sets off the dark wood tray.
What Houzz users are commenting on: