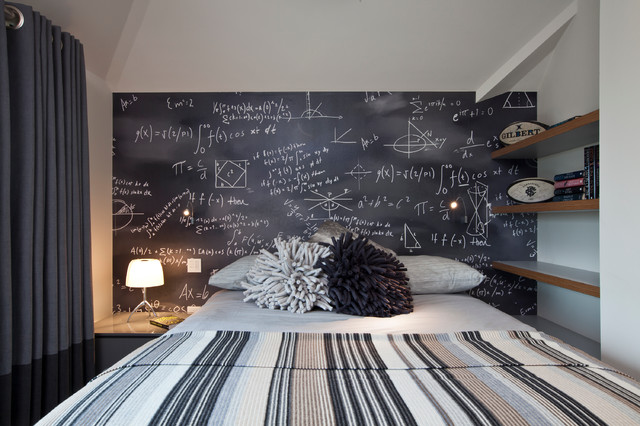 Family Home on a Drive to the Heath
Contemporary Bedroom, London
Inspiration for a contemporary grey and pink bedroom in London with multi-coloured walls. — 
Houzz
What Houzz contributors are saying:

Lucy Searle added this to Why a Scene-stealing Headboard Could Make Your Bedroom Makeover
25 October 2017
Customise your headboardPutting a headboard in a teen's bedroom? Why not create one using wallpaper with a blackboard design? Choose from brainy-looking equations, as here, or any number of fun doodles or slogans.Alternatively, you could try using blackboard paint and let them scribble themselves. Whether they create arty sketches, work out maths problems or use it as a calendar, it will be an ever-changing backdrop that works perfectly with a contemporary scheme. Just make sure they keep their chalky artwork away from the bed itself to avoid dusty pillows!

Kate Burt added this to How to Create a Feature Wall (Without Going Back to the 1990s)
22 May 2017
Put the writing on the wallNot all paint is equal – and covering a wall with chalkboard paint turns the feature into something else entirely. This is a bold look for a bedroom, where messy notes and drawings could clutter up one's brain rather than help it to rest before sleeping – though fill it with quiet poetry or calming phrases, rather than to-do lists, and it could positively aid relaxation. The risk of not being able to sleep is cleverly removed here anyway, since the feature wall is behind rather than adjacent to the bed, and therefore not visible to anyone trying to get to sleep in it.This particular wall is probably created using wallpaper, otherwise you'd need a headboard to stop your pillows from smudging the chalk around. You can also get whiteboard paint that can be written on with special wipe-clean pens if you prefer a pale alternative.

Lara Watson added this to No-fuss Weekend Projects to Revamp Your Bedroom
20 January 2016
Paint a blackboard wallWhat did we do before blackboard paint was available? A kitchen stalwart these days, it also works in the bedroom. This mathematical example takes it right back to its roots and reminds us of all that's possible once it's dry. This is a bedroom hack you can keep on hacking – jot down your dreams, scribble out your to-do list or write your packing needs for your next holiday…
What Houzz users are commenting on: