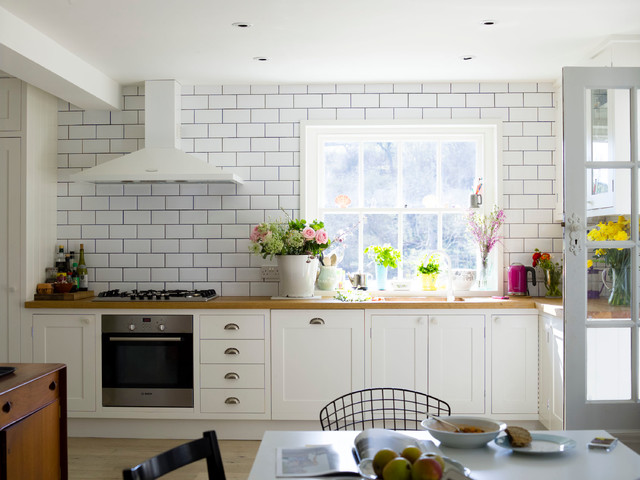 Family Living - South Downs Sussex
Country Kitchen, Sussex
Large rural grey and cream single-wall kitchen/diner in Sussex with shaker cabinets, white cabinets, wood worktops, white splashback, metro tiled splashback, stainless steel appliances, light hardwood flooring, a built-in sink and no island. — 
Houzz
What Houzz contributors are saying:

Amanda Pollard added this to 11 Ways Your Home Can Make You Happier
26 July 2016
Let in the sunshineNothing will lift your mood more than sunlight beaming in through your windows. So to ensure your home gets its full quota of rays, keep the glass clean and free from streaks and finger marks. Of course, for the outside it's best to call in a professional, but the insides are easy to clean yourself. Use a dry brush to sweep away dust from the frames, then sponge the glass with soapy water. Finally, remove the water by making 's' shapes on the window with a squeegee. Windows need to be cleaned at least twice a year. Don't think yours are dirty? Give them a clean and you'll immediately notice the difference.

Laura Gaskill added this to Make Cleaning Your New Home a Breeze With This Easy Routine
3 May 2016
Know your cleaning style Do you prefer to take on the entire house in one marathon session or break it up into bite-size chunks? After much trial and error, I've discovered that what works best for my family is a combination: small tasks that get done each day, paired with one not-too-long weekend session where everyone pitches in.Find the timeTake a look at your calendar to get a realistic idea of when you have the time to clean, and decide on a regular day and time each week – it's easier to keep up with a cleaning routine if it's just that: routine. If you're finding it difficult to fit in cleaning, consider setting a timer during your sessions and challenge yourself to do the job within the time you have. If you're trying to get children involved with the chores, try setting a stopwatch – it's easier to get kids motivated when it's a 'race'!Get the order right Always start high and end low so that dust and grime that drift down when you're tackling higher-up areas don't dirty freshly cleaned floors. And if you're pressed for time, focus on the rooms with the most need for frequent cleaning: the kitchen and bathroom.

Lara Watson added this to 10 Ways to Prepare Your Home For Spring
15 February 2016
Dig out your vasesFresh flowers are such a joy, and now's a good time to bring them back into your home if you've taken a break for winter, especially if you've substituted them with dried or silk flowers during the colder months. Give your vases a thorough wash to make them sparkle again, and replace ones that look tired.Remember that cut flowers keep better in water that's changed daily, and popping in a drop of bleach is a good tip to maintain freshness and keep bugs at bay. Also, when you're arranging flowers in your spring vases, strip the lower stems of leaves and debris, as these can soon turn into a slimy mess.
What Houzz users are commenting on:
Kitchens with Similar Colours