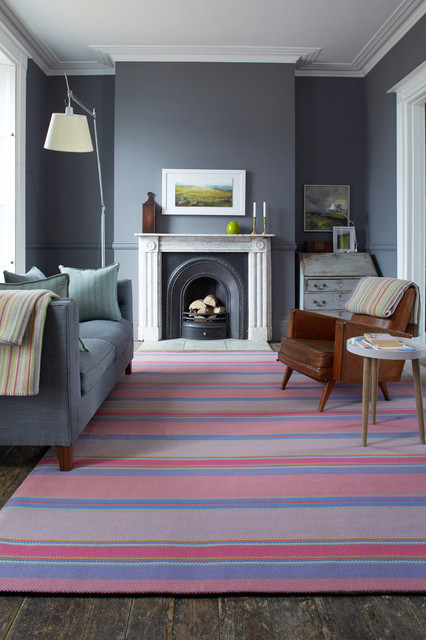 Flatweave rugs
Contemporary Living Room, London
Design ideas for a contemporary living room in London with feature lighting. — 
Houzz
What Houzz contributors are saying:

Lucy Searle added this to Haven't Got Built-in Alcove Shelving or Cabinetry? Don't Worry...
19 March 2018
Allow the room space to breatheA living room on the smallish side will actually feel bigger if you don't pack every single corner with furniture, fitted or otherwise. So if your clutter's well under control, give yourself the luxury of an empty alcove – or use it for something tall and striking, like this floor lamp, to draw attention to the space.

Kate Burt added this to Beautiful Blue and Grey Living Room Ideas You're Going to Love
31 October 2017
Add warmthDeep greys are known for their cosy-making abilities and often a small room, or an already-light-starved space, can be given a new lease of life by embracing its cosy feel by using charcoal-y shades to emphasise it. Certain greys (with more blue in them) can be on the cool side (the more yellow in the mix, the warmer a grey will be). So a rug like this one, featuring stripes of blue, pinks and red, adds a large-scale shot of heat. Now it's just about lighting that fire…

Sophie Baylis added this to How to Choose the Right Rug for Your Space
29 January 2016
Flatweave rugsFlatweave has a robust, durable construction and subtly woven texture that provides a stylish alternative to pile carpet. "Flatweave creates a style of flooring that was popular in Britain before the rise of pile carpets in the early 19th century," Roger explains. "Most rugs and runners were once made this way. "Unlike pile carpet, which has an even, uniform feel, like a perfectly manicured bowling green, flatweave has a texture that lends a unique character and personality to a floor," Roger adds. "The disadvantage of flatweave is that animals such as cats can catch their claws in its woven texture." Tell us… Where in your home do you use rugs? Which materials have you found to be the best? Share your experience in the Comments section.
What Houzz users are commenting on:
BD added this to New place-ideas narrowed down
22 June 2020
Add warmth Deep greys are known for their cosy-making abilities and often a small room, or an already-light-starved space, can be given a new lease of life by embracing its cosy feel by using charcoal-y shades to emphasise it. Certain greys (with more blue in them) can be on the cool side (the more yellow in the mix, the warmer a grey will be). So a rug like this one, featuring stripes of blue, pinks and red, adds a large-scale shot of heat. Now it's just about lighting that fire…
Living Rooms with Similar Colours