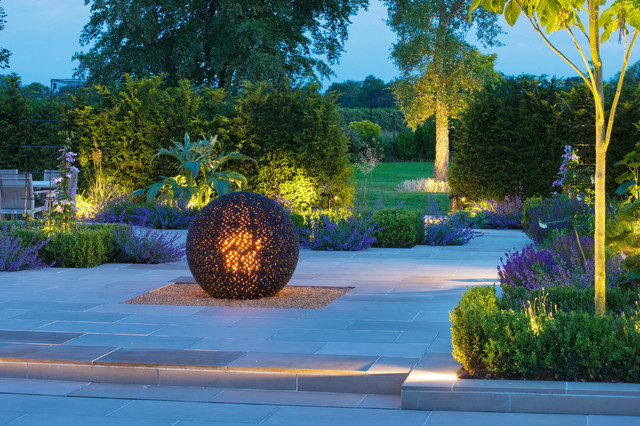 Garden Lighting
Contemporary Patio
Inspiration for a contemporary patio in Other. — 
Houzz
What Houzz contributors are saying:

Carolyn Parker Interior Design Ltd. added this to 10 Insider Tricks to Help You Style Your Home Like a Pro
3 January 2017
Don't forget the outsideProfessionals would always look at the outdoor space to give not only a sense of flow to the interior, but to sympathise with the surroundings of a project. When you're looking out, it's always good to have a focal point to create a vista, to lead your eye away and give you a sense of space. A sculpture or a tree can guide your viewpoint to the exterior. It's always a good idea to include some lighting outside, especially for the long winter nights. If you're building a new home or renovating an existing property, place as much importance on the exterior landscape as on the interior space. The two need to relate to one another in order to maximise your view from all the rooms of your home.

Lily Young added this to 10 Surprising Facts About Irish Homeowners and Their Gardens
5 August 2016
We like to throw light on our achievementsWith so many of us doing a garden overhaul, we're choosing to highlight the results with decorative lighting. 70% of Irish Houzzers used lighting in their garden to illuminate features and create ambience. Many of us chose to elaborate on our outdoor room, with 66% using lighting to create a relaxing and enjoyable garden experience. Safety (preventing trips and falls) and security (deterring crime) were also contributing factors in the use of light in our gardens (37% and 35% respectively).

Brilliant Lighting added this to How to Use Low-level and Floor-recessed Lighting – Indoors and Out
19 April 2016
Try it alongside foliageLow-level lighting doesn't have to be restricted to hard surfaces. A low-level light source and luxuriant foliage are a great combination, delivering wonderfully concealed garden lighting for a magical feel at night.Give the same consideration to drivers, driver locations, cable lengths and waterproof connections as you would when lighting your patio or decking and you can enjoy a beautiful, low-maintenance garden scheme for years to come. TELL US…How have you used floor and recessed lighting to enhance your space? Share your thoughts in the Comments below.
What Houzz users are commenting on:
Patios with Similar Colours