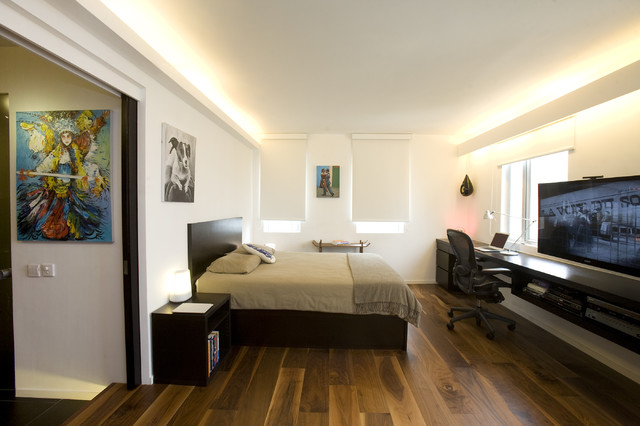 Healthy Garden - Feel like a stylish hotel suite
Modern Bedroom, Hong Kong
Clifton, the designer, chooses furniture in walnut brown to create a masculine and tasteful ambience for this project. Since the owner often goes traveling and has a collection of deco from all over the world, especially wall paintings. So, he wants a home design that is both practical and unique to reveal his personality and being design as a stylish hotel suite.

Clifton also adapts a sliding door and raised platform to separate the sleeping/ living area and cooking/ dining area. The design is flexible and practical since the owner wants maximum space in such a small area. So, he requires minimal design with the maximum space created.

Dark walnut color is selected as the theme color to portray a timeless metropolitan look. The flower arrangement with a dash of green and white, together with the artistic and colorful painting help to spice up the entire environment. The white wall also works well to break the monotony of the dark brown hues.

The wooden blinds by the entrance, in walnut brown, are unconventional, to conform to the overall look and feel of the design. The oriental wooden chairs by the entrance infuses well with the overall metropolitan design of the flat. This is a perfect blend of "east meets west".
Entrance

The kitchen design is characterized by simple design, minimalism and functionality. Finest materials and appliances are selected to match with the overall modern design. In line with the minimalistic design, built-in washing machine works magic to create an uncluttered kitchen space. The kitchen drawers are created with meticulous details, where cutleries can be conveniently categorized.

A sliding door is in place to separate the bedroom/living room and the dining area. The door can be fully opened to create a combined space for friends' gathering if needed. Different floor treatments are used to define the living and dining areas. Drawers under the bed offer extra storage and maximize the utilization of space.

The color tone and material of the furniture in the living area matches with that of the dining room – in hues of black and dark brown. The beige carpet and light chestnut flooring blend well with the furniture to offset the monochromic tonality and create a calm and restful feel. The mood lighting at the ceiling further enhances the homey ambience.

A grey washroom evokes a sophisticated, calming, and uplifting feeling, which offers a private oasis for owners to relax after a day of hectic work.

Photo of a modern bedroom in Hong Kong. — 
Houzz