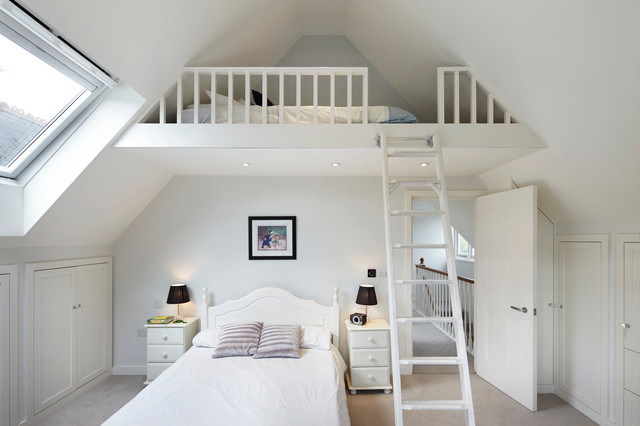 Kingston upon Thames, Surrey
Traditional Bedroom, London
Jack Hobhouse Photography
This is an example of a classic mezzanine bedroom in London. — 
Houzz
What Houzz contributors are saying:

Cheryl Freedman added this to Could I Create a Mezzanine in My Home?
22 March 2019
Build in good access"The most important thing to consider is whether to go for a full staircase or a ladder," James says. "If you choose a staircase, this will need to follow Part K of Building Regulations; a ladder staircase does not follow the same regulations." "Consider whether you want something interesting and sculptural or discreet and out of the way," Stephen says. "Your staircase might also be integrated into a joinery unit that includes bookshelves."Don't forget to assess the floor area your staircase will occupy," he adds. "Spiral designs have a more compact footprint."James says, "A balustrade or guard rail is usually required, as a mezzanine area is open to the space below. Materials can vary; traditional timber, metal, glass, or a combination can all be used.""The balustrade should be high and sturdy enough to provide a sense of security and safety," Stephen says. "The bottom of the stairs should stop at least 300mm from the nearest door, as with any other other stairs in the house," Michael says.Search for local architects and building designers in the Houzz Professionals Directory.

Optimise Home added this to How to Gain More Space (Without Extending)
11 September 2017
Look above your headConsider going into your attic to gain some extra space in the rooms below. This can be a great way to gain floor space without having to extend. It's also a clever way to get another room. For instance, you could add a mezzanine level over a living space to create an additional seating or den area. Here, the homeowners have used the space to create a mezzanine level in their children's room. This smart design has allowed them to have room for a second bed on the higher level, freeing up valuable play and storage space below.

Tugman Studio added this to Architecture: How to Design a Loft That's More Than a 'Box on a Roof'
2 November 2015
Find more space on deckI've come across lots of people who've been told they can't convert their loft as there isn't enough height. It's true that height is frequently an issue, as Permitted Development rules will not allow you to go higher than the 'highest point' of the existing roof. Nonetheless, there are many ways of addressing the problem and still coming out with a viable solution, even if it isn't the solution the homeowner originally imagined. In this example, a mezzanine level has been introduced. There's clearly not enough height for a separate room, but a new dimension has been given to the existing space with a fun and useful additional area.Find out more about what Permitted Development could let you do in your home
What Houzz users are commenting on:


pierjowsky added this to attic
23 September 2020
sleeping nook, good use of space