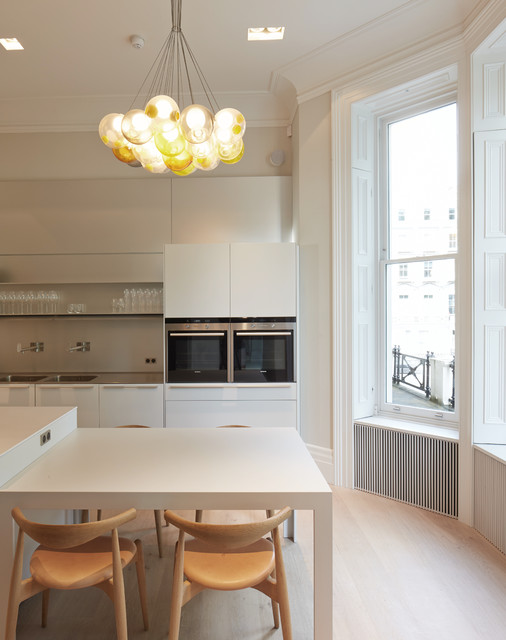 Kitchen
Contemporary Dining Room, London
Design ideas for a medium sized contemporary kitchen/dining room in London with grey walls and light hardwood flooring. — 
Houzz
What Houzz contributors are saying:

Sarah Warwick added this to How to Clean Your Oven
7 February 2018
Finally, tackle the door and sealsRemovable glass makes door cleaning easier – check in the handbook if you're not sure whether this is an option for your oven. "To remove burnt-on stains, spray the glass with oven cleaner, leave for the recommended time, then remove," says Corbett."Use a scourer in a circular motion for really stubborn stains. An old toothbrush is handy for awkward corners and the door seals. Most useful and labour-saving of all is a hand-held steam cleaner, which will blast spills away from the gap between the door and the body of the oven and can also be used to clean glass and oven shelves. Look for one that comes with a good range of accessories."Tell us…Do you have any household cleaning tips? Share them in the Comments section.

Sophie Baylis added this to Kitchen Planning: Your Essential Guide to Buying a Built-in Oven
21 April 2015
Fan ovensUnlike a conventional oven, a fan oven does not have heating elements in the side walls or roof and base. Instead, it features a fan, generally seen behind a perforated wall at the back of the oven. 'What you don't see,' explains Matt, 'is a circular heating element wrapped around the fan. What happens is the fan draws air in through the perforations, then pushes it over the heating element and out through ducts around the side of the rear wall.' This creates an even heat throughout the oven cavity. ProsFan ovens heat up faster than conventional ovens, therefore saving time and energy. What's more, fan ovens allow you to cook sweet and savoury foods at the same time without their flavours intermingling. 'This is because the heating element burns off airborne flavours as they pass over it,' says Matt.
What Houzz users are commenting on:

HU-538775251 added this to My ideas
11 December 2019
the neat and clean aspect, the white and wood combination
Dining Rooms with Similar Colours