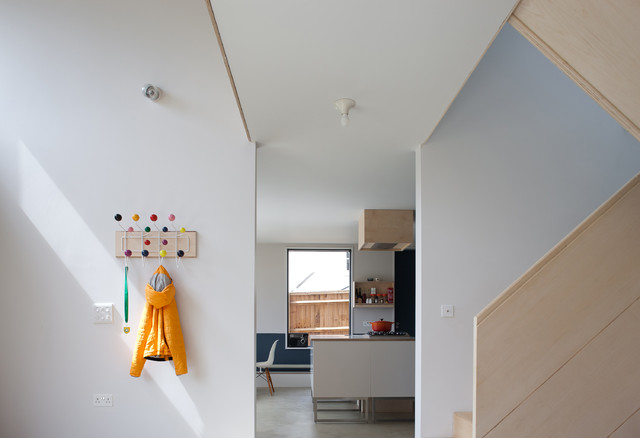 Long Crendon
Scandinavian, London
Scandinavian home in London. — 
Houzz
What Houzz contributors are saying:

Kate Burt added this to Ask an Expert: Renovate or Rip Down and Rebuild?
8 June 2017
Why is demolition a specialist's job? "Your average builder will not know how to plant explosives or safely knock down a building using a wrecking ball in an urban area, so someone specially trained has to undertake the job," explains Wielgus.Buildings can be demolished by hand (taken apart brick by brick), using heavy machinery or explosives. "There are different risks involved with each and a lot of paperwork is required – method statements, risk assessments, and health and safety plans amongst others," continues Wielgus. "There is also the matter of insurance cover and potential of salvaging, reusing and recycling," he adds. "If you want to purely demolish something, seek a specialist contractor who has the equipment, experience and insurance to do it."

Lara Sargent added this to Houzz Tour: A Contemporary New-build Blends in With its Rural Setting
20 November 2015
'When you enter the house, you're presented with views across the whole ground floor, upwards to the bedrooms and through the roof lights to the trees and clouds beyond,' explains Hawkins. 'We hoped to offer a sense of arrival into somewhere special.'The walls throughout the downstairs are painted in a very pale grey, which marries harmoniously with the plywood stairs for a contemporary, pared-back feel.Vitra Eames Hang It All coat rack, available from Nest. Ceramic light fitting, Trainspotters. Walls painted in Ammonite, Farrow & Ball.
What Houzz users are commenting on:
Jennifer added this to Interiors
7 February 2018
Why is demolition a specialist's job? "Your average builder will not know how to plant explosives or safely knock down a building using a wrecking ball in an urban area, so someone specially trained has to undertake the job," explains Wielgus.Buildings can be demolished by hand (taken apart brick by brick), using heavy machinery or explosives. "There are different risks involved with each and a lot of paperwork is required – method statements, risk assessments, and health and safety plans amongst others," continues Wielgus. "There is also the matter of insurance cover and potential of salvaging, reusing and recycling," he adds. "If you want to purely demolish something, seek a specialist contractor who has the equipment, experience and insurance to do it."