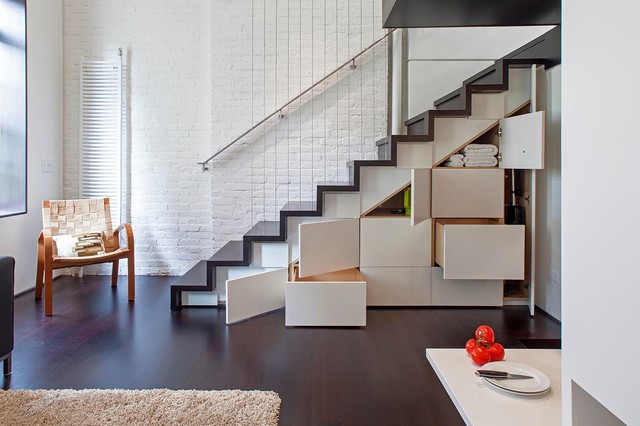 Manhattan Micro-Loft
Industrial Staircase, New York
Located at the top of a brownstone on Manhattan's Upper West Side, this apartment had a tiny footprint of just 425 feet, but the space stretched vertically for approximately 25 feet, and had access to a roof terrace.

Our solution created four separate "living platforms" inserted within the space that provide room for all the essentials and still allow the apartment to feel open and light-filled. The lowest level is an entry and kitchen space, and a few steps up is the main living area. Above the living area is a cantilevered bed pavilion that projects out into the main space, supported on steel beams. A final stair leads up to a roof garden. All the spaces flow into one another, and the idea of distinct "rooms" dissolved.

Given the miniscule size of the apartment, every inch of space is put to use. Stairs are not merely for circulation through the apartment, but feature built-in storage cabinetry and drawers below. The main bath and shower, in fact, are also built below the primary staircase. The kitchen features fully concealed appliances, flip up high storage units for easy access, and a countertop that wraps into the main living space, becoming a virtual 'hearth' with built-in entertainment system. There are no traditional closets in the entire apartment.

Materials throughout are selected to emphasize the spatial characteristics of the project. The perimeter is light, with painted (existing) brick, glass backsplashes and shelving, and white lacquered kitchen cabinets, stair cabinets, and fittings. The cantilevered bed pavilion is clad in dark wood, and anchors the space - a central object around which everything revolves. A dark wood floor and wood stair treads lead through and around the apartment, spiraling up onto the wood deck at the room. Given the number of built-in features, furnishings are minimal in number, with only a couch, coffee table, bed, and a side chair necessary.

Design Team: Scott Specht, Louise Harpman, Amy Lopez-Cepero, Sheryl Jordan, Devin Keyes

Photography: Taggart Sorenson

Press and Awards

AIA Design Award
Architizer A+ Award
The New York Times
"Tiny Homes Hunting" on DIY TV
Interior Design "Best of Year"

Photo of a small industrial wood straight staircase in New York with wood risers and under stair storage. — 
Houzz
What Houzz contributors are saying:

Staircases with Similar Colours