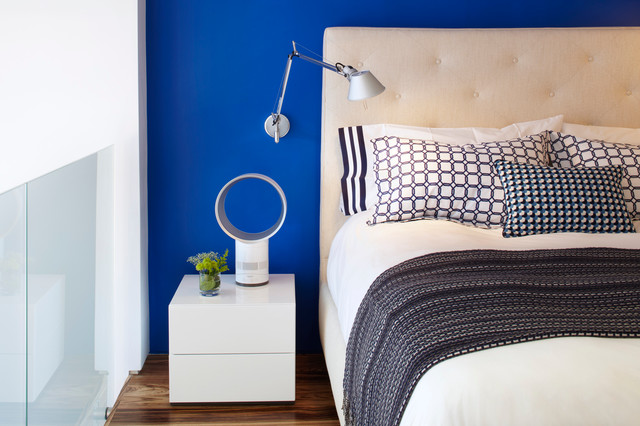 Meat Packing Duplex
Contemporary Bedroom, New York
Packing a lot of function into a small space requires ingenuity and skill, exactly what was needed for this one-bedroom gut in the Meatpacking District. When Axis Mundi was done, all that remained was the expansive arched window. Now one enters onto a pristine white-walled loft warmed by new zebrano plank floors. A new powder room and kitchen are at right. On the left, the lean profile of a folded steel stair cantilevered off the wall allows access to the bedroom above without eating up valuable floor space. Beyond, a living room basks in ample natural light. To allow that light to penetrate to the darkest corners of the bedroom, while also affording the owner privacy, the façade of the master bath, as well as the railing at the edge of the mezzanine space, are sandblasted glass. Finally, colorful furnishings, accessories and photography animate the simply articulated architectural envelope.

Project Team: John Beckmann, Nick Messerlian and Richard Rosenbloom
Photographer: Mikiko Kikuyama
© Axis Mundi Design LLC

Design ideas for a small contemporary master bedroom in New York with blue walls and medium hardwood flooring. — 
Houzz
What Houzz contributors are saying:

Lara Sargent added this to Lifestyle: How to Keep Your Cool Through the Summer Months
3 July 2015
Fit in a fanIf your room feels stifling even with the windows open all night, you may want to try a powerful, bedside fan. I love the look and functionality of retro-style, chrome fans but the noisy whirr of the blades might not be best suited for the bedroom. So consider investing in one of the new generation of bladeless fans that are safe, powerful and extra quiet – perfect for a cool and restful night's sleep.