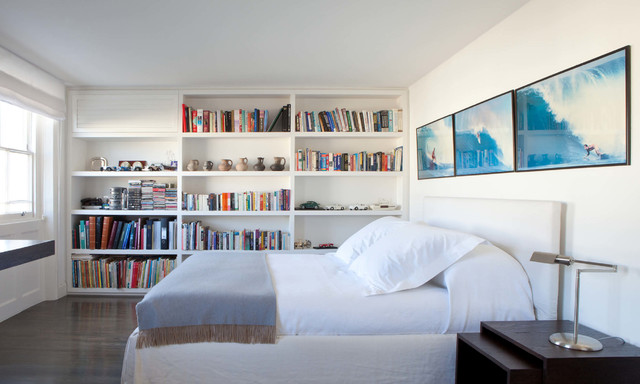 Modern Minimal Interiors
Contemporary Bedroom, London
Contemporary grey and cream bedroom in London. — 
Houzz
What Houzz contributors are saying:

Sophie Baylis added this to How to Declutter Your Home and Keep it Tidy
16 March 2017
Why do I have a problem dealing with clutter?Clutter builds up because of deferred decision making. Just a few instances of "I'll leave this here for now" or "I'll come back to that later" can lead to overflowing surfaces, piles of papers and bags stuffed with homeless items. "It's a choice not to decide what to do with a paper clip, hair bobble or empty sunglasses case," Sarah Reynolds of Organised Chaos Ireland says. "The more you avoid the decision, the more the clutter builds. Then, not only is the clutter hard to deal with, but the decisions around it are harder, too." Perfection also gets in the way. Many people don't want to tackle mess until they feel they can do it once and for all. "They want to wait until they have the right storage, or remodel the kitchen, or when their partner can help," Sarah continues. "The big one is that they won't put it away until it has a proper home. However, you can always put things in the room where they belong, even if that room needs sorting. "The reality is, circumstances will never be perfect," Sarah adds. "Perfection doesn't exist. Aiming for perfection leads to a stressful state of mind and, for me, getting organised should make life easier, not more stressful."

Lara Sargent added this to How to Share Your Bedroom and Still Get Along
18 November 2015
Keep clutter at bayA neat and tidy space is key to promoting peace, love and harmony – particularly in the bedroom.So, if one of you is a tad on the messy side, or perhaps an avid reader with a growing library on the go, invest in some built-in storage to keep everyone happy. Perhaps a wall of shelves would be just the ticket. If that's too ambitious, stick with a freestanding version, or even simply a large bedside cabinet for stashing away all your bits and bobs.

Brendan Guy added this to Ask a Designer: How Can I Make Best Use of My Storage Shelves?
13 August 2015
In the bedroomAs I am a complete bibliophile and need to shelve a lot of books, a favourite trick of mine is to turn a whole wall in a bedroom – or either side of a fireplace – into shelving. I like to fill them full of books; however, the shelves of a wall unit can also become a repository for treasured objects, such as heirlooms, family photos, kids' paintings and pottery.
What Houzz users are commenting on:

Willow Grey Interiors added this to Lois
27 April 2022
Very seaside feel, but too much so. Bookcase seems cluttered and room seems a bit bare other than bookshelf