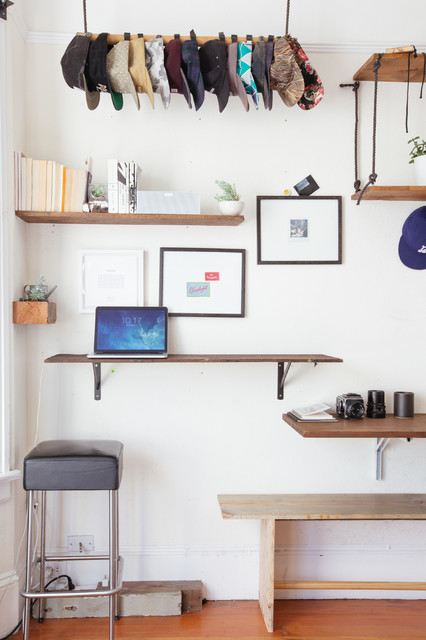 My Houzz: 2 Tools + 1 Resourceful Guy = Lots of Great 'New' Furniture
Eclectic Home Office, San Francisco
Photo: Nanette Wong © 2014 Houzz
This is an example of a small bohemian home studio in San Francisco with no fireplace and a built-in desk. — 
Houzz
What Houzz contributors are saying:

Antonia Solari added this to 9 Trends that Reveal How We Might Live at Home in the Future
6 July 2021
Multi-functionalityIn furnishings, multi-functionality is becoming increasingly popular. For years, office furnishings mimicked home furniture in terms of style and colour. Now, the reverse is happening: acoustic panels and sliding partitions previously used only to separate workspaces in offices are coming into homes. Desks at home are increasingly resembling those from the office, including set-ups that can be adapted from sitting to standing for better posture.

Melody Bay added this to How to Decorate For Your Myers-Briggs Personality Type (NFP)
13 July 2017
If you're an ENFP who can't sit still for long, consider a standing desk. It doesn't have to be expensive: even a shelf, like this one here, will do for someone who doesn't require much space. Add a barstool for a seating option when you're tired of standing.If you'd prefer more flexibility, another option is to purchase a desk with adjustable legs.Browse home office designs
What Houzz users are commenting on: