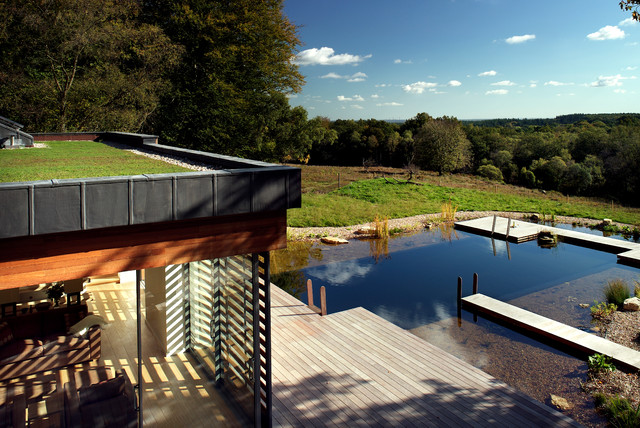 New Forest House
Modern Swimming Pool & Hot Tub, Hampshire
Nigel Rigden (www.nigrig.com)
Modern swimming pool in Hampshire with decking. — 
Houzz
What Houzz contributors are saying:


Sarah Alcroft added this to Ask an Expert: A Beginner's Guide to Green Roofs
24 March 2015
A green roof can help to regulate the temperature inside the building as it insulates the roof, cutting the demand for heating in winter and cooling in summer, though there are circumstances when this isn't the case (see Downsides, below). 'It also helps to soundproof the room below,' adds Tom.Green roofs reduce the urban heat island effect (where roofs absorb heat during the day and release it at night when the environment should be cooling down), as they absorb far less heat.'They also protect the roof's waterproofing membrane from UV damage and weathering, helping to double and sometimes triple its life,' says Tom.

Gabrielle Orcutt added this to Architecture: What You Need to Know About Building an Eco Home
8 October 2014
What's the value of eco homes?House prices can vary enormously depending on the location, size and even interior design, so it's hard to make generalisations about whether eco houses have a higher market value. Some would say they don't, while others would argue that the energy-efficiency of eco homes makes them more desirable to potential purchasers.'We worked on a development of nine eco houses in Bath, all zero carbon and built to a Code 5 standard,' says Paul Younger. 'Interestingly, we had a lot of debate with the estate agents, who initially didn't value the properties any differently from others of the same size in the area. But when they actually started to market the scheme and promote the benefits of eco housing, this did translate into higher sale prices.'
What Houzz users are commenting on:

Tara Kelly added this to Lake House
27 January 2021
grass floor patio. cool interaction with the water
coppermolly added this to Pools
14 May 2020
Since these pools look so much like natural bodies of water, you can play up the image with docks to create your own lake. Just like the real thing, your creation may also attract deer and other critters that will enhance your view in exchange for a few sips of healthy, clean water.
Swimming Pools with Similar Colours