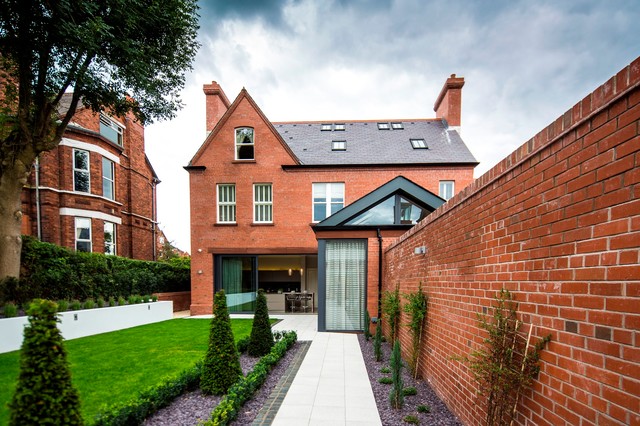 NEW REPLICA NEW BUILD, HOME SET IN CONSERVATION AREA.
Transitional House Exterior, London
Inspiration for a large and red classic brick house exterior in London with three floors and a pitched roof. — 
Houzz
What Houzz contributors are saying:

Sophie Baylis added this to Ask an Expert: Renovate or Rip Down and Rebuild?
28 May 2017
Tips to turning a profit?If profit is the goal, whether you are renovating or rebuilding, then you need to make sure you don't overdevelop the house and make it too personal; keep an eye on who your end purchaser is likely to be. "You don't want to focus too much on your own wants and likes," says Everitt. "Generally, the more bespoke you make the property the narrower your market, although arguably you may then get more of a premium on price."Keep an eye on the amount you spend and on the specification, making sure you build something that is viable. "Ensure the development is appropriate for the site and its location – for example, if the area is predominantly three-bed family homes it may be that a two-bed bungalow or a six-bed executive home is not the most appropriate form of development," says Everitt.Everitt continues: "It is a good idea to try and build a bit of flexibility into the design so that people can envisage how they would live in it. You need to make sure that you build something that gives people a flexibility in how they're going to live, but also works well for the market in that area."

VORBILD Architecture added this to 10 Key Things You Might Not Know About Planning Permission
21 February 2016
Pre-application advice is availableThis should be the first step in determining if what you're planning to do is already covered by Permitted Development (PD). You can do a surprising amount of work without the need to go through an often lengthy Planning Permission process at all. More on that below. Some councils still allow for brief pre-app meetings, with or without appointments, where you can discuss your proposal with a duty planning officer. However, most London boroughs, certainly, only offer this as part of a paid service, which might take as long as a regular planning application – two months or more, depending on the council's workload.In my opinion, it's always beneficial to ask for advice from the council, whether you're proposing a standard extension or other alterations. The fees vary from council to council, but they're usually higher than Planning Permission fees. Have a look at your local council's 'pre-application advice' pages online.
What Houzz users are commenting on: