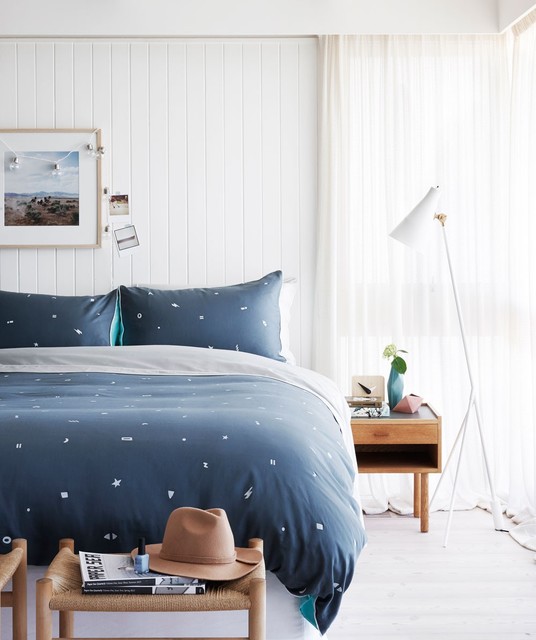 Pinata Party Quilt Set
Contemporary Bedroom, Melbourne
Design ideas for a medium sized contemporary bedroom in Melbourne with white walls, painted wood flooring and white floors. — 
Houzz
What Houzz contributors are saying:

Victoria Harrison added this to Could This New Scandi Trend be the Secret to Bedroom Harmony?
26 February 2018
The quandaryWhen making up a double bed, the standard way to dress it in the UK is with a double duvet. But is this always the best way? Two single duvets side by side as an alternative to the classic double may seem unusual at first, but there are many compelling reasons to consider such a set-up. And it's nothing new in Scandinavian countries."The majority of duvet sales in the UK are double duvets [200 x 200cm or 225 x 220cm]," says Martin Møller Aamand, communications and PR manager at Jysk, a Danish home retail chain with more than 2,500 shops all over Europe. "In Denmark, though, most duvet sales are still single duvets [135 x 200 cm]."The tide could be turning, however, as Ikea has just launched a 'TOG-ether' duvet bundle in the UK, comprising two single duvets to be used side by side on a double bed.Here, Houzzers have their say on this bedroom trend, along with the editors of Houzz Denmark and Houzz Sweden.

Joanna Tovia added this to How to Stop Arguing About Household Chores
13 November 2017
Divvy up the responsibilitiesOne of the benefits of living with a potential life partner before marriage or a long-term commitment is getting a sense of how he or she lives, as the honeymoon phase mellows to a warm glow and you both start to relax and be your true selves. If you notice a marked difference in standards when it comes to cleaning and tidying up, now's the time to decide how high a priority it is for you – and to have an honest conversation about how the chores will be assigned between the two of you into the future."Housework touches on what have historically been fairly entrenched gender roles, which are changing rapidly," says Roberts. "Because these roles are changing, they need to be explored and negotiated with those involved. When this is done successfully and the agreements kept, this can further strengthen a relationship."Tip Begin conversations with "I feel" rather than "you always" – attacking someone for their behaviour is rarely as effective as a calm conversation coming from a place of respect.

Laura Gaskill added this to How to Find Your Decorating Direction
4 March 2016
Notice your long-term preferences Do you still love some of the same things you did as a kid? Many of us do, and these long-term preferences are extremely important to pay attention to. For instance, when I was a child, I loved blue and white, and surrounding myself with these colours still feels the most authentically me. Ask yourself… What colours, objects, materials or themes did you love when you were a kid? Do any of these still resonate with you today?
What Houzz users are commenting on: