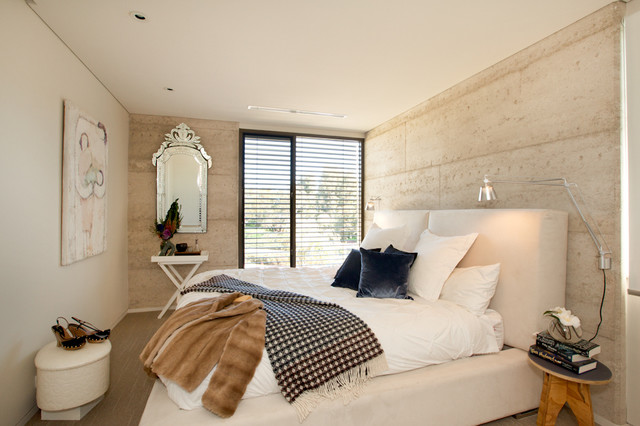 Scoop Publishing - Tim Wright House
Contemporary Bedroom, Perth
Design ideas for a medium sized contemporary bedroom in Perth with beige walls and carpet. — 
Houzz
What Houzz contributors are saying:

Junko Kawakami added this to Why a Pineapple Could Bring Good Fortune and Other Home Superstitions
25 January 2016
Mirrors as windows to other worldsIn some cultures, people think a mirror is a path between this world and another, such as heaven or the underworld. For example, 100to14, a Houzz pro user in Spain, says, 'We are taught not to make any wish in front of a mirror, as they are supposed to be connected to the "other side".'In some Eastern cultures, including Singapore and Japan, older people believe that one should not sleep in front of a mirror, as a mirror placed in front of a bed will confuse your soul when it returns to your body upon waking. These beliefs are explored in literature, too, such as in Lewis Carroll's book Through the Looking-Glass, a tale whereby Alice climbs through a mirror into a world she can see beyond it. In fact, until modern technologies, such as photographic and cine cameras, became available, the mirror was the only way to see how you looked to others. So it's no surprise there are many cultural superstitions that allege mirrors have mysterious powers. For example, in the UK, Houzzer Sarah explains people often say, 'Dread the day I break a mirror.' This is the fear that a broken mirror will trap a soul inside it and bring seven years' bad luck, a superstition that dates back to Roman times.
Bedrooms with Similar Colours