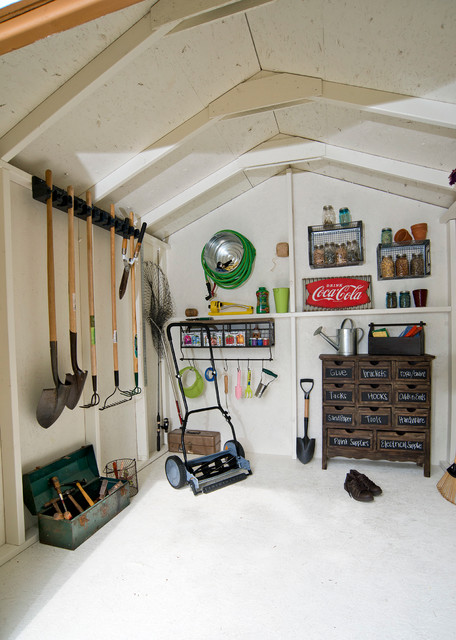 Storage Shed Interior Design Ideas
Traditional Garden Shed and Building, Detroit
This is an example of a small classic garden shed in Detroit. — 
Houzz
What Houzz contributors are saying:

Claudia De Yong Garden Design added this to A Beginner's Guide to Adding Trees to Your Garden
20 March 2017
Mulch, weed and feedTo mulch or not? That is a another common question. Once trees have been planted, you may get a lot of new weed growth. You can remove surface weeds (especially any grass) as soon as possible, because the grass around a newly planted tree will compete with it for any water. It is best, especially if planting in grassy areas, to use a strimmer guard where possible to prevent damaging the tree, and a tree guard if you have rabbits or deer around. Using a mulch around the tree will help suppress weed growth. Put the mulch over the entire root area of the tree, which may well extend beyond the branches over time. Do not put mulch around the trunk as the resulting moisture will lead to bark decay.New trees shouldn't need feeding, since a slow-release fertiliser will usually have been added before you buy them. And you shouldn't need to feed your tree once it is established. However, you can buy top dress slow-release fertilisers containing potassium for the autumn time if you think your tree would benefit.

Organised Chaos Ireland added this to Decluttering Tips to Prep Your Home for Summer
28 May 2016
Get stuck inThanks to the longer days, the summer is a good time to tackle some of the bigger jobs around the house and garden.Outdoor areas such as the garage and shed are ideal places to tidy up during the warmer weather. And with the kids on holiday, it's also a good time to employ their help in sorting out their bedrooms one weekend. Children often love getting their rooms redecorated, so maybe a bit of initial decluttering is in order before you get out the paintbrush.

Revive Your Space added this to 10 Ways to Spruce Up Your Shed This Spring
5 April 2016
Label, label, labelThis vintage chest of drawers has been repurposed. It's a great way to upcycle an old piece of furniture you no longer want indoors or have found at a bargain price from a second-hand warehouse. By labelling all the drawers, you'll be able to quickly find things you carefully stored away many months ago in the autumn!Take a little time to create a monthly job planner for your garden, and add in items month by month as you go along. A little care this year will help you out next year and every year after that.
Garden Sheds and Buildings with Similar Colours