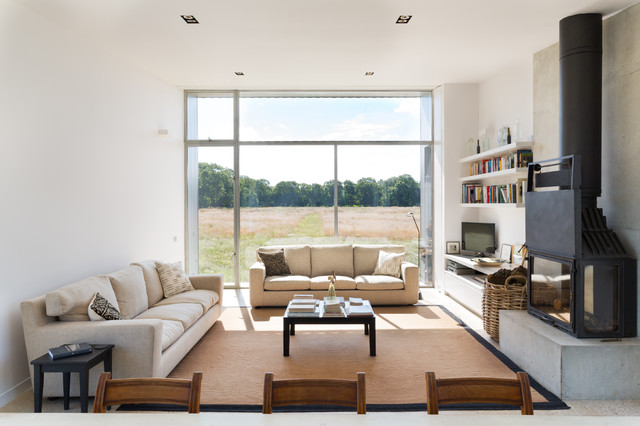 Sussex New Build
Contemporary Living Room, London
Paul Craig ©Paul Craig 2014 All Rights Reserved. Architect: Charles Barclay Architects

Contemporary living room in London. — 
Houzz
What Houzz contributors are saying:

Kate Burt added this to Ask an Expert: Renovate or Rip Down and Rebuild?
8 June 2017
Where to start and how to make the big decisionIf your home isn't working for you but you don't want to move, how do you decide whether to rebuild something brand new – like this Sussex home built on the site of an old barn – or renovate? Start by being practical: consider the general state of repair of the property. "If the house is in a good state, but just isn't in the style or configuration you want, it may make more sense to renovate," says Nicky Bryden of CLPM. Next, talk to estate agents to make sure you understand your local housing market and can accurately predict the value of your existing home and the renovation versus a new build. If demolition starts to appeal, call in more specialists: "Get a construction project management company, as well as a team of quantity surveyors, involved early on," says Bryden. "They can talk you through the best way to make your decision and advise you on the likely costs of each of your options."10 essential details to consider when renovating your home

Andrea Von added this to Houzz Tour: A Beautiful New Build in Suffolk With Spectacular Views
26 August 2015
Photography: Paul Craig PhotographyHouzz at a GlanceWho lives here The homeowner and her large, extended family, who visit frequentlyLocation A former pig farm in Southwold, SuffolkSize 4 bedrooms, 5 bathrooms; 200 sq m on 7.5 hectaresCompleted 2012 after 7 months of work; won the RIBA regional award in 2013Total cost £2,000 per sq m, or £400,000 in totalArchitect Charles Barclay of Charles Barclay ArchitectsThat's interesting There were long-eared bats living in the original barn, so an outbuilding (the 'bat house') had to be built a year in advance of work starting on the main house to give them a suitable new habitatOn the southern side the house is a horizontal ribbon of large windows to make the most of the views and orientation. The ceilings in the living rooms and master bedroom slope upwards towards the windows to take in the landscape and sky for that sense of being in the countryside.
What Houzz users are commenting on:
legallez73 added this to woodburner
14 June 2017
Love the fire place in this photo anyone know what it is