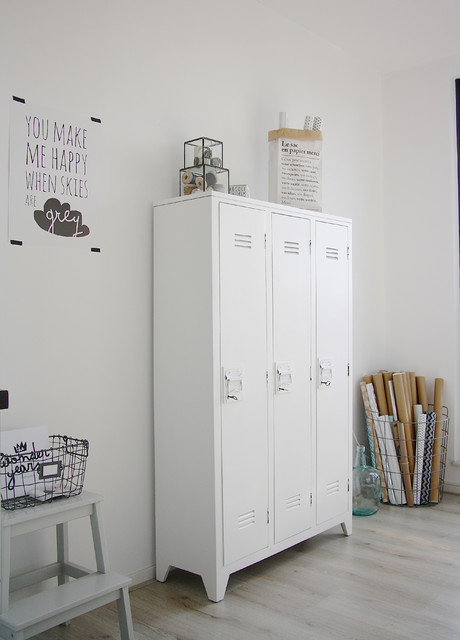 The home of Karlijn and Pieter
Scandinavian, Amsterdam
Photo: Holly Marder © 2013 Houzz
Photo of a scandinavian home in Amsterdam. — 
Houzz
What Houzz contributors are saying:

Victoria Harrison added this to Trend Report: Key Trends Spotted at Maison & Objet Design Fair 2014
10 September 2014
Practical metal locker-style storage was also given star status, with utilitarian cabinets making a comeback, some complete with a lock and key for keeping secrets safe. Such storage was given a chic update, though, with pretty painted finishes and delicate metallic details. TELL US...Did you visit Maison & Objet? Share your thoughts or favourite trends from the show in the Comments below.

Victoria Harrison added this to My Houzz: A Soothing Home in the Netherlands for a New Family
27 June 2014
This locker cabinet is one of de Jong's favourite pieces and provides much-needed storage in the home office. 'It's a little tough and industrial but not too much, and it's white,' she says. 'I just love white. It's clean, it's crisp, and with not a lot of natural light it can lift the mood of a space.'Cabinet: Locker White, HK Living; wire basket: Leenbakker; paper bag: Merci Paris; glass boxes: PM 0322, House Doctor
What Houzz users are commenting on:

鳥井奈穂子 added this to 奈穂子さんのアイデアブック
24 May 2018
ヴィンテージロッカー 学校、オフィス、スポーツジムなどで使用されていた古いスチール製のロッカーがヴィンテージロッカーと称して人気家具のひとつとなっています。古びた風合いにより、鉄製でありながら経年の歴史が沁みこんだ暖かさを感じるためでしょうか。 1. ヴィンテージロッカーを塗装する ヴィンテージロッカーを塗装してインテリアに取り入れた子供部屋。壁の白と統一することで清潔感をプラス。ヴィンテージ家具に手を加えてソフトな印象にすることで、きれいめのインダストリアルスタイルの部屋に仕上がっています。収納家具にはインテリア全体を左右する大きな存在感があります。