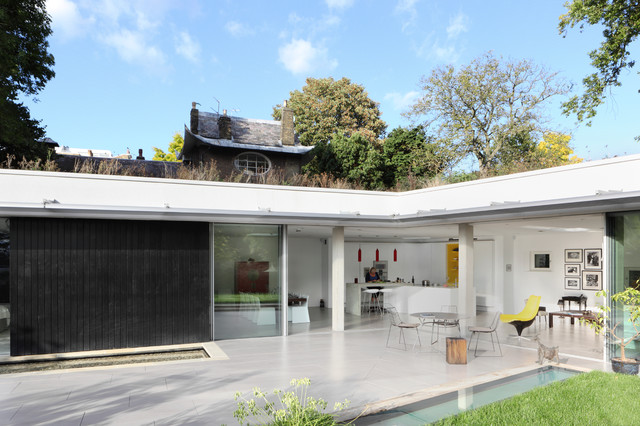 The Pavilion Eco House, Blackheath
Contemporary House Exterior, London
View of Living Spaces from Roof Terrace

To Download the Brochure For E2 Architecture and Interiors' Award Winning Project

The Pavilion Eco House, Blackheath

Please Paste the Link Below Into Your Browser http://www.e2architecture.com/downloads/

Winner of the Evening Standard's New Homes Eco + Living Award 2015 and Voted the UK's Top Eco Home in the Guardian online 2014.
This is an example of a medium sized and white contemporary two floor house exterior in London with wood cladding. — 
Houzz
What Houzz contributors are saying:

Kate Burt added this to Ask an Expert: Renovate or Rip Down and Rebuild?
8 June 2017
How can I increase the chances of my plans being accepted?Make sure you do your homework upfront. Look at any constraints on the site. Is it a conservation area? Is it an Area of Outstanding Natural Beauty? Is it within an established settlement? Then it would be a case of talking to planners; most local authorities have a pre-application process. "Consider what implications the replacement dwelling might have on any adjoining neighbours, especially if it'll move to a different location on the plot," says Everitt, "or if it's going to be a different height or scale to the building to be replaced. I would also suggest getting some sketch plans done to have a look and see whether the design works."Everitt continues: "The best approach would be to talk to a planning consultant or an architect when considering a site as they should be able to give you a good steer on whether what you want to achieve is likely to obtain planning approval. Some simple checks will tell you whether the existing building is listed or not, whether any trees on the site are protected and if it is in a conservation area."

Amanda Pollard added this to Houzz Tour: An Architect Builds a Beautiful Eco Haven for his Parents
28 July 2016
The building is designed to be comfortable all year round. For example, to the east of the property is a woodland, which is the coolest part of the site. "They can make the most of this by opening up the windows at this spot and pulling in the cool air," Cooper explains. "At the same time, they can open the roof lights to let out hot air." The full-height sliding doors on the terrace are triple-glazed and super-insulated. They're framed by a fixed-louvre awning, known as brise-soleil, which shields the glass from high summer sun and allows low winter sun to shine in. "The white horizontal lines of the brise-soleil continue the theme of contrasts," says the architect. "They are the direct opposite of the black timber vertical panels."Triple-glazed, frameless windows, Sky-Frame.
What Houzz users are commenting on: