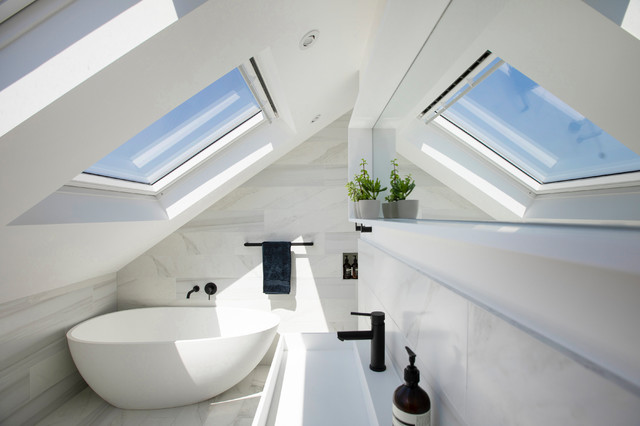 #TheLondonHomeDesignAwards
- Yes this is my our own home
- Yes we live in London
- This property is owned
- This home is in Balham SW12 and I live here with my husband Matt and my 16 month old baby Olivia
- We completed a loft conversion which comprised of a bedroom and a new ensuite bathroom (this bathroom is at the very top of the house and accessed by stairs and a sliding door as per the photos).
- We love having the floor clear and a minimalist look, yet be a practical space, so went with bespoke wall shelves, bathroom fittings from Lusso Stone (towel hooks, towel rails, double wall sinks with storage drawers, matching mirror which doubles as a shelf). The decision to have an egg shaped bath and a wet room shower was only made once the space was opened up (always daunting to commit to a renovation project when you only decide the details once the demolition occurs, but we put our trust and faith in Kasia + JP from Visionary Lofts and we love the end result). In order to have a wet room and not just a bath, we also had to cut into the new bedroom, which at the time, we just could not picture it but hopefully you can see from the additional bedroom pictures that it provides an added quirkiness to the space! There is also a hatch door for storage in the eaves and the giant Velux windows not only brightens the whole bathroom, but when open, you have a lovely view and also helps with the head height of the overall bathroom!
- Overall, the loft conversion took approximately 8 weeks.
- Visionary Lofts - Kasia + JP and their team
They are a relatively new company and Kasia + JP are young and newly married!
- Very hard to say my favourite feature but I may have to choose the Lusso Stone bath as number one (or at least my baby would think so given she has taken the most baths in it out of the three of us!) but closely followed by the 'wet room' shower or the double basin with drawers and a matching mirror!
- The bathroom was part of a wider loft conversion which in total costed just under c£40k including all furniture and fixtures.
Photos kindly taken by Paulina Sobczak Photography.
What Houzz contributors are saying:

What Houzzers are commenting on:
People who liked this photo also liked