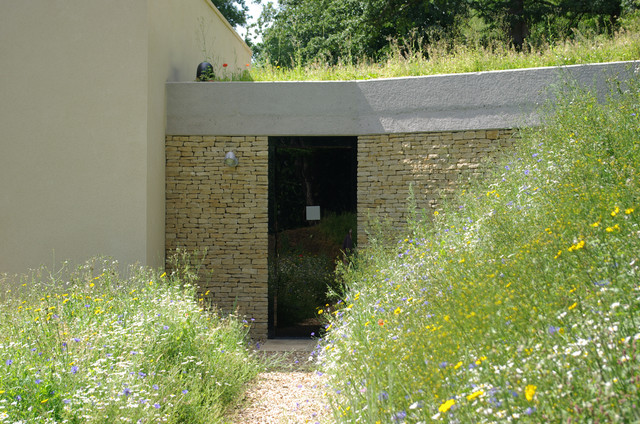 Twinneys
Contemporary
Photo of a contemporary home in Other. — 
Houzz
What Houzz contributors are saying:

Victoria Harrison added this to How to Renovate or Extend Without Destroying Wildlife Habitats
15 November 2021
Sue also suggests "transforming a lawn into a wildflower meadow to support butterflies, bees and other insects. Wildlife likes variety," she says, "so ensuring there's a decent mix of habitats and features in your garden is a sure way of supporting different species throughout the year.""You could also compensate for what's been lost by contributing to the purchase of a nature reserve, or paying to offset the development through planting trees elsewhere," Adrian says."And, of course, it's good to think about wildlife and the environment in a wider context," he adds. "That means, for example, ensuring the extension is carbon neutral, utilises the best in sustainable energy and materials, and captures rainwater in the SUDS train."

Sarah Alcroft added this to Ask an Expert: A Beginner's Guide to Green Roofs
26 March 2015
Are there any downsides?The initial cost will be more than for an ordinary roof. Your roof will need to be properly waterproofed before the vegetation can be laid: a roofing contractor can help with this.Generally, roofs are strong enough to hold an extensive green covering, but some may need strengthening. 'If you aren't sure, you could probably send the dimensions and a photo to the green roof company for their opinion,' says John. A roofer could then do any necessary work; some green roof companies can take care of this for you. 'It's hugely important to have a strong roof, especially if it's a big one, as you don't want to end up with water pooling in one area,' says Sam Thornell of Hart Design and Construction. 'To gauge it, imagine it were a floor to be walked on: if it can take the weight of a couple of people, it should be strong enough.' Green roofs can insulate the room below. However, according to The Green Roof Centre, this can be tempered by the amount of water the roof is holding, as water has a negative effect on thermal conductance, so in a soggy winter, it might have little effect.
Photos with Similar Colours