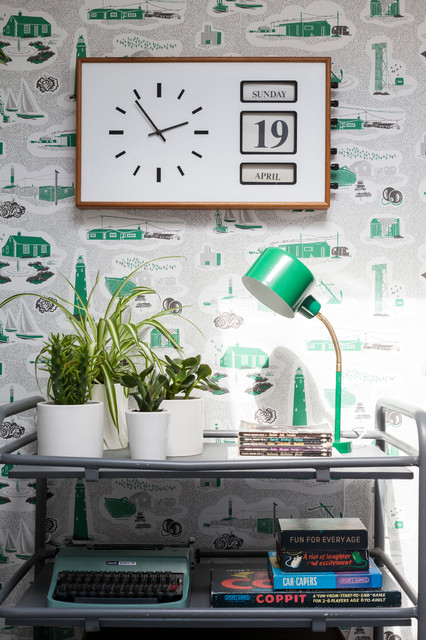 Victorian Railway Carriage
Scandinavian, London
Photo: Chris Snook © 2015 Houzz
Photo of a scandi home in London. — 
Houzz
What Houzz contributors are saying:

Clear the Chaos added this to An Easy Guide to Decluttering and Organising in Bite-sized Chunks
21 March 2017
Step 3 Organise your spaceCheck the time. This is when motivation really kicks in as you should have removed a considerable amount of stuff, leaving you with a manageable pile of essential items that can go back in the cupboard. But first, make sure you put everything back in an organised way. Use coat hooks, shoe racks and shelves efficiently and if you need to stack any items, label them for easy finding. Front-opening plastic boxes work brilliantly and are readily available from various stores and online.Need some help? Find home organisers in the Houzz Professionals Directory.

Jo Simmons added this to 9 Things Home Renovators Know to be True
8 April 2016
Deadlines are flexibleAny experienced DIYer will know that the predicted duration of a task is flexible. Timings and targets often have to be amended, with one-day projects turning into two, or finishing in time for lunch becoming finishing in time for dinner.

Jo Simmons added this to My Houzz: A Restored Train Carriage Makes a Unique Home on a Kent Beach
29 April 2015
A trolley salvaged from the bins outside the duo's work space and wallpaper from their Dungeness range brighten a corner near the entrance. 'We designed this wallpaper during 2013 after we had renovated this place,' says Mark. 'It's a way of archiving the landscape. The old Edwardian shacks and sheds on the beach are becoming dilapidated. No one's ever going to put one up in their place, so it's nice to catch this moment.'See inventive ways to work in a little wallpaper
What Houzz users are commenting on:
Sophie Meillat added this to Idées de j_meillat
14 January 2018
12. Deux en unPourquoi s'encombrer avec une horloge et un calendrier perpétuel quand les deux peuvent fusionner ? Avec son look subtilement rétro, cette pendule murale peut traverser les âges. Pour lui donner une nouvelle jeunesse, il suffit de repeindre le cadre dans une couleur différente chaque année. N'oubliez pas de changer la date du calendrier chaque jour !