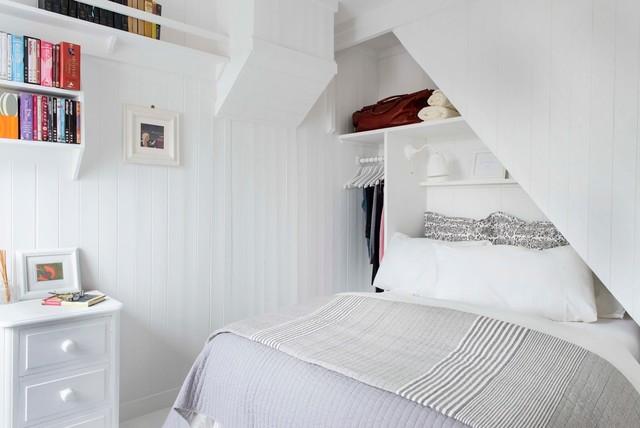 WHITSTABLE ISLAND COTTAGE
Coastal Bedroom, Kent
Photo of a beach style bedroom in Kent. — 
Houzz
What Houzz contributors are saying:

Amanda Pollard added this to 7 Ideas to Steal from Well-designed Tiny Bedrooms
3 December 2019
Create partitionsAt first glance, you might assume the bed would go along the flat wall in this tiny room, but the team at Whitstable Island Interiors had other ideas. They tucked the bed beneath the sloping roof and built some nifty storage around it. Each section has been measured out to accommodate essential items, and the partition between the bed and 'wardrobe' is the perfect spot for a wall light. By creating one multi-functioning area, the designers have freed up space in the rest of the room for other items.

Jennifer Spaeth added this to Small-space Design Hacks You'll Love for Any Budget
22 January 2018
Go back to basicsOne of the oldest – and easiest – tricks in the book for enhancing the sense of space is going for an all-white scheme. And not just on the walls, but on the flooring and furniture, too, in order to avoid creating large breaks in the visual plane. If that's too stark for your taste, try introducing one or two subtle and complementary shades with accessories – or even a few shots of bold colour like the books in this bedroom. The amount of natural light a space gets also determines how you perceive its size, so consider using a paint that contains light-reflective particles, available in most DIY stores. This will help to subtly boost a sense of openness by increasing the amount light reflected around the room.

Victoria Harrison added this to Don't Move into Your Student Halls Without These 10 Items
4 September 2017
Extra hangersThere are never enough hangers in student rooms and the ones that you do find clattering around in the wardrobe are usually the thin metal ones that can leave marks in the shoulders of tops and jumpers. To make your wardrobe feel a bit more cared for, take a stack of your own from home or buy a few new ones to ensure you have a well-ordered space to arrange all your clothes.
What Houzz users are commenting on: