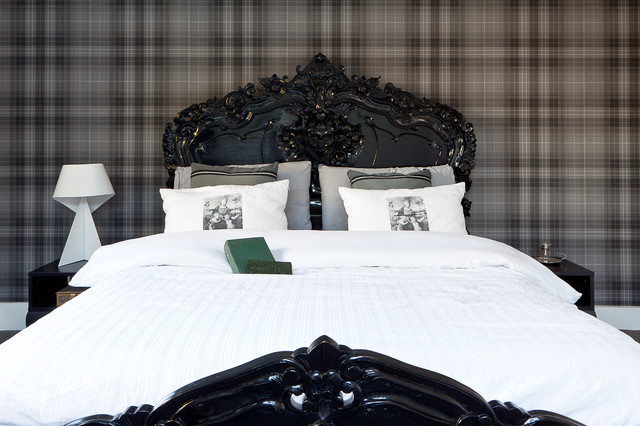 Wickets
Transitional Bedroom, London
Simon Eldon Photography
Interior design by Carine Harrington
This is an example of a traditional bedroom in London with grey walls. — 
Houzz
What Houzz contributors are saying:

Sophie Baylis added this to A Beginner's Guide to Getting Wallpaper Right
15 February 2016
Crunch the numbersTo work out how many rolls you'll need, first look at the width of your chosen paper (standard wallpaper rolls are 0.53m wide). Measure the perimeter of the room in metres, including doors and windows, and divide this by 0.53 (or the width of your paper). To calculate the total length of wallpaper needed, multiply the height of the room in metres by the number of widths needed. Divide this number by the length of a roll – generally 10m. This final figure will be the number of rolls you'll need.If maths isn't your strong subject, many retailers have an online calculator that will give you a rough guide to the number you'll need to complete the job. Taylor recommends you buy at least one extra roll in case of mishaps or miscalculations.

Jo Simmons added this to Decorating: 12 Ways to Weave Tartan into Your Home
12 December 2014
Limit the colour paletteLet your tartan wallpaper call the design shots in a room by teaming it with pieces that pick up on its key colours. Here, a dramatic black bed frame and grey pillows tie in beautifully with the grey and black tartan paper, while the white bedding adds a crisp contrast.

Bedrooms with Similar Colours