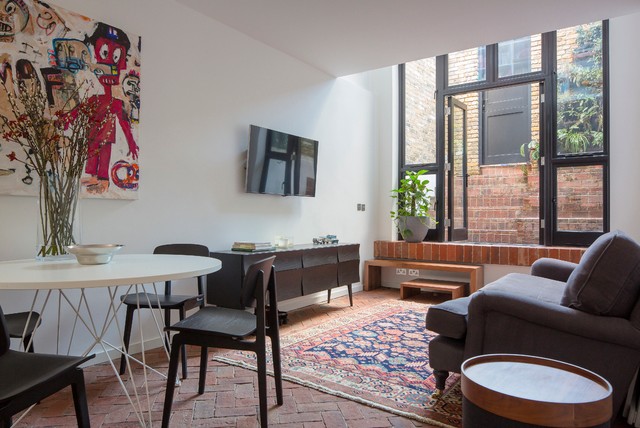 Winkley Workshop
Industrial Living Room, London
Brick floors inside and out with double height windows, leading to views of the Green wall

©Tim Crocker
Design ideas for an urban living room in London. — 
Houzz
What Houzz contributors are saying:

Cheryl Freedman added this to How to Deal With Condensation Damp
22 November 2021
How do you prevent it?If you have damp issues, the experts recommend contacting a professional. "A lot of specialists carry out damp surveys for free to assess how big the problem is and probable costs to resolve the issue," Lior says.However, there are plenty of steps you can take immediately to reduce condensation."Make sure your house is ventilated and there's decent air flow, especially during warm weather, when you can keep windows open during the day," Lior says. "Close kitchen and bathroom doors when cooking and bathing, so moisture won't travel around the house. And make sure your furniture isn't touching a wall," he continues.Avoid using your clothes airer in the house as much as you can, too. "Where possible, dry your clothes outside your home," he says. "Wipe down your windows and windowsills on a daily basis," John adds.When it comes to bigger measures, John advises you ensure your home is fitted with double-glazed windows. "While this might be expensive, in the long-run it will protect the fabric of your home," he says. Decent thermal insulation is advisable, too, if possible.

Jo Simmons added this to How to Share a Small Living Room
21 July 2016
Edit collectionsA living room full of personal finds may be your goal, but when space is tight and also shared, you might have to streamline your collections. Save the vignettes for your bedroom, or get creative and find a way to show off your favourite pieces in a way that doesn't unfairly hog precious space.Got some treasured family heirlooms? See how to display them creatively

Victoria Harrison added this to Small Space Living: 4 Amazing Tiny Homes in London
12 July 2016
Expert tip: Create sightlines to trick the eye"It feels much larger than its built volume because of the view lines we established within the design. From any vantage point in the house, you can look beyond to another room or outdoors," Kirkwood says. "Achieving this entailed setting back the middle mezzanine 1.2 metres from the external wall," as seen in the picture above. "While forgoing this amount of footprint in a small house might seem illogical, it allowed us to create a double-height space with huge windows that gives the property an exaggerated sense of scale, daylight and views."
What Houzz users are commenting on:
Living Rooms with Similar Colours