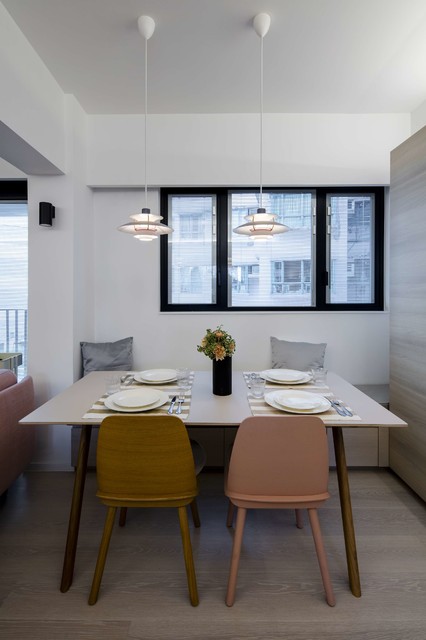 Woodland Gardens — Japanese meets Nordic
Scandinavian Dining Room, Hong Kong
With a thoughtful use of lighting and carefully curated furniture, this 1,000 sq ft Mid-Levels apartment with unsightly columns and beams is transformed into a cosy Scandinavian home with a Japanese touch.
When you think of designing a home, one does not usually put Japanese and Nordic together. But Clifton was inspired by the compatibility of the two cultures, which both emphasise minimalism, to bring out this eye-catching fusion project.
Earth tones reminiscent of Scandinavian design are used throughout the apartment, allowing it to look more spacious and comfortable.
Upon entering the apartment, one is quickly greeted by the Japanese style living room, which oozes Zen with a faux fur carpet and flatter furniture pieces including a Fritz Hansen sofa in pink, side table from Habitat, dining table from HAY and pendent lamps from Louis Poulsen.
The apartment is blessed with a high ceiling, but nonetheless, its columns and beams originally made it appear smaller. But with a clever use of lighting, such as indirect lighting on top of the beams and strategic placement of lamps on the columns, the flaws are concealed and the unit appears taller, bigger and more comfortable.
Similarly, the kitchen is transformed into an open one with an island, so the owners, both social butterflies, can invite their friends over for gatherings.
Besides catering to the two adult owners, Clifton did not forget about their fur friend Buddy, a Bichon Frise. To ensure that Buddy does not feel left out at night, while ensuring the couple can have some privacy in their bedroom, a small square hole was made in the door for him to freely move in and out.

Scandinavian dining room in Hong Kong. — 
Houzz