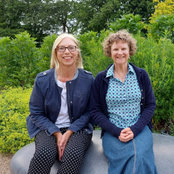 North Leeds Garden Design
Commented: possibly
These are hellebores - same pic as single pink flower. wonderful plants flowering now. evergreen leaves too, making a lovely foil for ither flowers later in the year.
Commented: yes
love snowdrops! best bought as plants rather than bulbs - they'll be available to order now in the UK, for delivery from the end of Feb.
Commented: Purple-grey bedroom help
How about a copper lamp or even black with copper inside. The flex needs to be longer though so it hangs lower over the bed if you retain a shade style. Get a pair of side lights that co-ordinate, p...
Commented: Patio size
Hi there it was 3m diameter within a 4x5m plot. We wanted to demonstrate that the smallest of spaces could still find room for planting, lawn, tree and of course somewhere to sit and enjoy it all fro...
Commented: Is Orange the New Black?
Orange is a brilliant colour on the walls but getting the right shade was tricky. I used to have a living room with two walls a bright/burnt orange and the opposite two walls were pillar box red. It...
Commented: Are you ready to rip up your decking?
We recently had a Millboard deck installed in a garden we designed. It was an area under a tree so seemed the best solution. The problem I have with it is it doesn't weather like wood does so our oa...