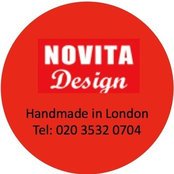 Novita Furniture Collection
Commented: HELP! I need a dining table...
We made this white table for an apartment in London. It would fit well with your kitchen, and we can make it to fit the space you've got. We can make chairs to match - though we didn't actually make t...
Commented: Inspiration please!
Our floor lamp would go really well in the corner of the room. It's adjustable in terms of height and shape so you can change its position to suit you. It costs £150, made from solid beech with a vint...
Commented: I'm interested.
Hi yes we have a few more photos of the table. If you send me your email address, I'll send them on to you. My e/m is helen@novitafurnituredesign.co.uk. The table is beech stained wenge. Regards Helen
Commented: Like it
Yes this square coffee table is available in different sizes. If you send me an email to info@novitafurnituredesign.co.uk with your requirements, I will be able to give you a price for the size you'd ...
Commented: Need help for my living room
The room looks lovely and similar to one that we've helped to furnish in SW London. We make bespoke furniture including desks with matching chairs for luxury apartments. Have a look at our website for...
Commented: Need help with our living room / dining room
You may have already found all the furniture you need for your new house but we have a dining table and chair set that could well suit your new home and your budget. Have a look at the Offers section ...