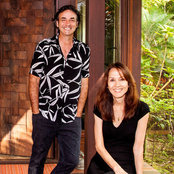 Tropical Architecture Group, Inc
Commented: Where can I get those stools by the island?
I designed them and had them custom made. The Bali Lani is our personal home and our children were toddlers, so I wanted a bar stool that they couldn't knock over. Most of the furniture in the Bali La...
Commented: What is the color of the cabana?
Not sure what color you're referring to, but the posts are made of Bangkirai Indonesian hardwood, the roof is Ironwood, and pad is grey with bright multi-colored pillows...golds and reds mostly...with...
Commented: Post bases
The post bases are marble and were made in Bali. They had to be cut, once on site and installed by a stone mason.
Commented: Reclining Chaises
The chaises were all custom made. I have seen some really great chaises on-line, so I'm sure you'll be able to find something very cool! Good luck!
Commented: wrapped glulam
I wasn't sure that I understood the first question and if you were asking what the glulam was made of. If so, the glulam - Glued Laminated Timber, is a type of structural, pressure-treated timber mad...