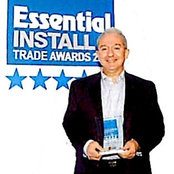 Commented: TV positioning and should I paint the mantelpiece?
TV above Fireplace - solving the neck ache! This month, we will be importing a new dynamic TV mount, that is specifically designed to easily lower TV's that are fitted above a fireplace/protuding mant...
Commented: Tv on top of real fire?
We have been putting TVs above fireplaces for 15 years now! You should leave at least 100cm clearance from the top of the fireplace and if the wall is thin, add heat insulation behind the TV. To see ...
Commented: Wireless home automation
Wired is ALWAYS better than wireless connections. We are now all bombarded by wireless interference, whether it be neighbours or SkyQ boxes that have their own local wireless network! If you can't ea...
22 November, 2017

in Other
Commented: Living room tv advice- wall or stand?
Plan B? TV too high - solving TV neck ache We have been installing TVs above fireplaces for the past 15 years. Our recommendation is that you should leave at 50-100cm clearance from the top of the fi...
Commented: POLL: Do you have a home cinema?
Home Cinema is now more affordable that it ever has been. What was £50,000 is now achievable on a budget of £10,000-£20,000. The skill is in marrying together the optimum components within the budge...
8 November, 2016

in Polls
Commented: POLL: Loft conversion or cosy attic space?
Either is great for a Home Cinema, although we would recommend the basement as there is no natural light to worry about(!) and it is ideal for insulating any sound.
14 October, 2016

in Polls