Bedding
Our beds are the centrepiece of our bedrooms, and good bedding can transform a basic sleeping space into an oasis of comfort. Bed linen is a versatile design tool in its own right with a huge amount of choice on offer. Read the following tips to help choose the perfect bedding for your home:
What style bedding should I get?
For a consistent theme,
bedding sets
can serve all your linen needs in one purchase; alternatively, duvet covers, bedspreads and bed
sheets
can all be mixed and matched to reflect your personal style. Duvet covers that echo the straight lines and minimalist style of a contemporary bedroom can be used to create a clean, crisp look, while a lively mood can be created by pairing bold patterns and colours using pillows and bed covers. For a timeless look, opt for jacquard or damask bedding in neutral colour combinations such as brown and white, or duck egg and grey. They suit many decor styles from country to romantic-themed bedrooms.
What bedding do I need?
As well as serving a decorative purpose, bedding is necessary to protect our mattresses, duvets and
pillows
and thus prolong their life. To meet basic bedding requirements, you will need a duvet cover, pillow cases and flat or fitted bed sheets. Other additional bedding elements, such as divan trims,
bedspreads
and bed runners could be added for an extra decorative twist. Bedding comes in a variety of styles and materials, leaving ample opportunity for versatile bedding collections that can vary by style or season. For example, light fabrics such as sateen or percale sheets will make cool and comfortable bedding in the summer, while texture-rich blankets paired with flannelette sheets are warm additions for winter. Cot bedding and
children's bedding
may need softer and more durable bedding than you might choose for yourself, and their beds might require additional items such as
quilts
and comforters.
What size should my bed linen be?
Sheets and duvet covers are sized according to beds, although selecting the right sheet size is not only a matter of distinguishing between king size bedding and super king size bedding. Sheets also vary by mattress depth; standard fitted sheets are made for mattresses up to a depth of 26cm, so mattresses up to 32 cm deep require deep fitted sheets.
The size of sheets and duvets are standardised as follows by most retailers:
Single sheets: 90 x 190cm
Single duvet covers: 135cm x 200cm
Double sheets: 135 x 190cm
Double duvet covers: 200cm x 200cm
King size sheets: 150 x 200cm
King size duvet covers: 225cm x 220cm
Super king size sheets: 180 x 200cm
Super king size duvet covers: 260cm x 220cm
How do I use my bedding to decorate my bedroom?
Bedroom ideas for bed linen are countless - while bedding sets are convenient, why not be creative and mix up your duvet cover sets? Layered textures and shades can make the perfect shabby chic bedding, or try using them to give an all-white contemporary bedroom a twist for a bright and comfortable feel. Grey bedding is a refreshing alternative to traditional neutral hues, and can look striking contrasted with patterned
blankets
in bolder colours, or paired with purple bedding for a glamorous and modern colour combination. A bedroom can be given a five-star finish with crisp linens reminiscent of hotel bedding, and for a bohemian or countryside appeal floral bedding can be used to bring the ambience of a garden into your bedroom. Pillows can be both sumptuous and decorative – try "pillowscaping" to add depth and texture to your bed, with rows of pillows and
cushions
in a medley of shapes and sizes.
No matter whether you're looking for grey bedding, designer contemporary bedding, luxury bedding sets or something else entirely, Houzz is bound to have the perfect bed linen for you and your home.
Featured Reviews of Bedding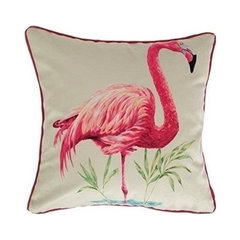 McAlister Pink Flamingo Cushion Cover
Bedding
Cute: I love it, lovely colours, nice material fun and funky update for any chair/bed. It arrived promptly no issues/damage so overall very pleased and would purchase from them again. If you love flamingos then buy it its worth the money.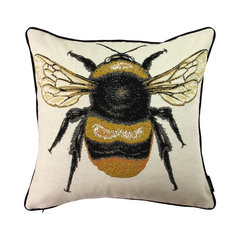 McAlister Bugs Life Cushion Cover, Queen Bee, 43x43 cm
Bedding
Really lovely: Love my new cushions, got the bee and the dragonfly design. Great quality cover and filling (I prefer feathered ones but these ones are very soft and bouncy so I won't replace them)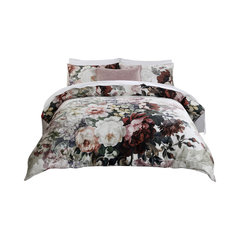 Lizzy 3-Piece Bedding Set, Double
Bedding
Good and reasonably priced...: The fabric seems durable enough, the sizing is correct, the colors are vibrant... The real truth will be in the washing of it. If it fades or begins to fall apart after washing, I will try to update this review. But at this end of the deal, it's a good duvet cover / pillowcases. I would recommend.