Mantel and desk clocks make a fantastic alternative to
wall clocks
, especially if you want the flexibility to move your clock around the house, or don't want to drill holes in your walls. When it comes to purchasing a mantel or desk clock there are lots of things to consider, so read the following tips to find the perfect clock for your home:
What is a mantel clock?
A mantel clock is a small freestanding clock. It got its name from being small enough to sit on the mantelpiece (a shelf above a fireplace). However, nowadays mantel clocks can be placed anywhere around the house, from a kitchen top to a bedside table.
What styles should I consider when buying a desk clock?
There are a few different things to consider when choosing the style of your desk or mantel clock:
Firstly, think about whether you'd prefer an antique or modern style clock, and which would match your interior style the best. If you're planning on purchasing a genuine antique mantel clock, bear in mind that it may require more care and upkeep, and start at higher price point than other types. If you want a desk clock to manage your time while working from home, there are many digital versions or smart but classic styles that will help you stay on track. Either way be sure to read up on the clock before making a purchase.
The next thing you need to decide on is the shape or design. Classic styles, such as baroque designs, will sit proudly on mantelpieces or shelves in living rooms and dining rooms, but there are plenty of other styles to choose from, too. Nowadays, you can find decorative desk clocks and mantel clocks in a variety of different styles and designs. Here's a breakdown of some of the most popular classic designs: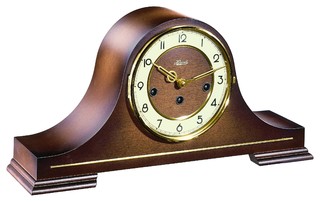 Tambour
Tambour clocks have a round clock face and are supported with a wide base.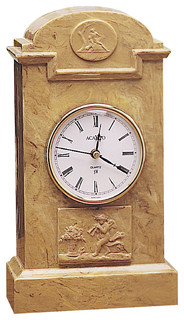 Rounded, Arched and Beehive
These clocks all have a rectangle base and only differ by their tops, with rounded clocks having a more rounded top than arched, and beehive clocks shaped to look like a beehive.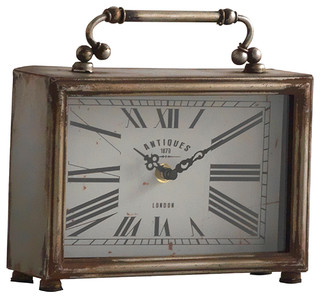 Carriage
Carriage clocks are rectangle in shape and have a handle on the top. Their cases are often made from gilt brass.
Finally, you need to decide whether you want a mantel clock which chimes. The frequency and melody varies between mantel chiming clocks, so be sure to consider how often you would want the clock to chime (hourly, quarter hourly etc.), and whether you'd want the chime to be a strike or musical melody.
Which material should my table clock be made of?
Mantel and desk clocks can be found in various different materials, including wood, precious metals, glass and porcelain. Each of these types of materials come with different starting price points, with precious metals being the most expensive. Wooden clocks often have carvings and can serve as a focal point in your home, whereas porcelain ones are often painted with flowers. Choose a material which will complement the rest of your interior and is within your budget.
What else do I need to consider when buying desk clocks?
You should consider how easy it is to keep clean and whether your clock will require specific cleaning products. We also recommend dusting your clock on a regular basis to keep it looking its best. You should also think about the types of batteries your clock requires, and be sure you have some spare in case your clock decides to stop. If you plan to place your clock on a mantel, shelf or desk, it's worth considering what else will be sitting on that surface and whether they will work together. You can, of course, move objects around to accommodate, but you want your mantel clock to work with your interiors rather than drive them elsewhere.
Regardless of whether you're looking for silver, digital or wooden mantel clocks, or something else entirely, Houzz is bound to have the ideal mantel or desk clock for your home. Be sure to browse our other beautiful
clocks
, too.