Desks and Writing Bureaus
Whether tapping out emails in the study or reclaiming the lost art of letter writing, a desk or writing bureau is an essential for any home. And with self-employment on the rise in the UK, creating the perfect
home office
is more important than ever before. With everything from antique writing bureaus to contemporary corner desks available, it's now easy to find a work surface that meets your needs and style preferences.
What are desks used for?
From its modest beginnings as a mere writing surface, the humble desk now offers a multitude of different uses. From working to gaming to creating, modern desks now come in a variety of styles according to their primary function.
If you're looking to create a home office space, a computer desk is probably your best bet. Depending on how much equipment you have (or how much you like to spread out!), an L- or U-shaped desk may help you in keeping everything neat and organised. Alternatively, you might want to opt for a hutch desk or a workstation with integrated storage space so you can keep the actual work surface clear. If you suffer from back pain or like to stretch your legs, there are now a whole host of ergonomic options available, from height-adjustable work surfaces to standing desks.
Conversely, you may require a desk for more creative pursuits. Wipe-clean melamine or laminate desks are ideal for painting or potentially messy kids' activities, whilst solid wood surfaces are a robust and durable option. Workbench-style desks with sawhorse legs and reclaimed wood tops are great for DIY projects and make a stylish industrial feature as well.
Finally, gaming desks are the new must-have piece of furniture for console enthusiasts. With features like headphone holders, cable tidies and integrated games racks, these comprehensive units represent a new era of multifunctional computer desks.
What is a writing bureau?
Originally used for handwriting letters and other documents, modern writing bureaus are now designed to accommodate laptops as well. They typically comprise a pull-out work surface, a lid or pull-down cover and some storage space in the form of drawers or open compartments. Whilst these writing desks are great for the occasional work-from-home professional or letter-writer, they lack the surface space required for a desktop computer and printer. Instead, these compact bureaus are perfect for smaller homes or apartments and often make an attractive decorative feature as well. Here are the three main types of writing bureau:
Flat writing desks:


The simplest of all writing bureaus, these desks have a flat work surface and may incorporate a few drawers for folders or stationery. Available in a wide range of styles, they can be nestled discreetly into the corner of the room or used as a design feature in their own right. Opt for reclaimed wood and metal models for an on-trend industrial look or choose a cabriole-legged desk with ornate details for a touch of Shabby Chic style.



Roll-top desks:


An elegant addition to a traditional office or library, roll-top desks add character to any home. Traditionally made from wood in a rich stained finish, these writing bureaus feature a tambour lid composed of interlinked slats which slide down to conceal the tabletop. Inside, a series of vertically stacked nooks and drawers provide space for pens, letters and odds and ends. Whilst these wooden writing desks have a limited amount of working space, they do work well as occasional tables and will complement more traditional spaces.



Secretary desks:


Originally designed for office secretaries, these fold-out bureaus also function as a comprehensive storage solution. Resembling a tall chest or sideboard, the secretary desk has a hinged panel that folds out to form a compact work surface. The many shelves and drawers can be used for all your stationery and files, keeping the space neat and tidy. Although often antique in design, you can now find modern, Scandinavian-style units as well.
What are desks made of?
Desks and writing bureaus are available in a wide range of different materials, each with their own distinct advantages. Whilst functionality is often the primary concern when looking to purchase a new desk, it is also important to think about the design, durability and style of the work surface. Below is a list of the most common desk materials:
Wood:


A wooden desk is a timeless option for any home and is an entirely unique piece of furniture. Wooden desks are durable but do require maintenance to keep them in tip-top condition. Engineered woods like MDF and chipboard are a robust, easy-care option and also come in a range of colours and finishes to suit any decor style. Unlike solid woods, they are resistant to moisture and humidity.



Glass:


If you really want to make an impact, a tempered glass table is a sleek and elegant option. These transparent desks come in a range of different colours and will complement any contemporary space. However, they are easily marked by fingerprints, making them not the most practical option for a busy family home.



Metal:


Metal desks are robust, practical and striking. They will add an on-trend industrial touch to any home office space and look great paired with reclaimed wood shelves and a swing-arm lamp. A metal desk will last forever but can be quite heavy and cumbersome.
Where to buy desks?
The Houzz UK site offers a vast selection of different desks and writing bureaus that can be filtered by style for easy navigation. If you're looking to fit out a study or home office, you can also check out our range of complementary
office storage units
and
desk accessories
.
Featured Reviews of Desks and Writing Bureaus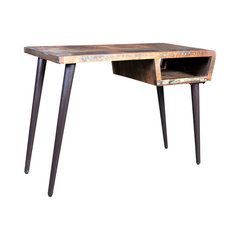 Reclaimed Wood Desk With Iron Legs
Desks and Writing Bureaus
Cool desk: Solid reclaimed wood with great colors that blended well with the blue tones in the room. Assembly was a snap,even included the one tool I needed. The open shelf is very versatile for allowing the desk to be flipped for right side or left side shelf use. Sturdy work surface for my laptop and small TV monitor, even room for a lamp. Arrived in 2 days at my front door with no damage to shipping carton.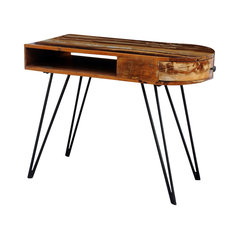 VidaXL Reclaimed Solid Wood Desk With Iron Pin Legs
Desks and Writing Bureaus
great rustic desk for work at home: the product is really great quality for the price that you pay and is very functional. the only problem I had with the desk was that it is packaged very poorly and there are no up arrows on the side of the box. I work at UPS and if there are no up arrows it will get laid down and stuff stacked on top of it. I had to send my first one back because it was damaged due to the packing and the no arrows on the side head stress cracks. order replacement right away but still waiting on refund. the first desk was also shipped with two of the four legs
Desks and Writing Bureaus
Excellent: This desk is really well made and it is very easy to put together. The desk is stable, quality of materials is very good. Price is very reasonable. Thank you nice people who made it. Great Job!!!