Dining Chairs
Depending on your needs, dining chairs can serve many different purposes. If you have a formal dining room, your dining chairs may only get used for special occasions whereas if you have kitchen chairs that are part of a kitchen dining set, they probably see a lot of action — everything from daily family meals to poker night. The type of seating you will want to choose will be dictated by its setting, and where style might matter most in a formal setting, comfort is key with casual, everyday seating. Dining chair sets are an important purchase so before you make a decision take some time to consider these suggestions:
How many dining chairs should I buy for my dining room?
The number of chairs you will want to purchase is largely determined by the size of your table. Smaller tables usually suit two to four chairs, while larger tables will usually need six to eight. If you're starting from scratch and buying an entirely new
set
, consider how many kitchen and dining room chairs you actually need, and how many your space will comfortably allow - you don't want an elbow in the face in the middle of your meal! It's also helpful to buy a few extra seats, in case you need to squeeze in more people during a larger gathering.
Folding chairs
can be a great option if space is limited. If you are buying kitchen chairs be sure that you don't prevent easy movement around your kitchen by over cluttering!
What type of dining room chairs should I buy?
You will want to select dining chairs in a material which complements your
dining table
. High back wooden dining chairs are a traditional option that never goes out of style, whilst moulded plastic dining chairs are a fantastic contemporary choice that is also practical for young families as they can be wiped clean. White dining chairs and leather dining chairs also complement modern interiors, or mismatched multi coloured dining chairs are a fun and contemporary choice. Upholstered dining chairs with arms and deep cushioned seats can be great for enjoying long, deep conversations over dinner or lingering over dessert, though they aren't very forgiving when it comes to spills.
Should I get a set of kitchen chairs or mix and match?
When selecting your kitchen dining room chairs you might choose to mix and match different kinds of dining chair for an eclectic relaxed feel, but for a formal dining room a full set of matching chairs is more likely to win out. If you want a really grand dining room, then you can opt for two dining armchairs at the head and foot of your table.
Regardless of whether you're looking for bright coloured, rustic leather or even upholstered dining chairs with oak legs, Houzz is bound to have the perfect kitchen and dining room chairs for your home.
Featured Reviews of Dining Chairs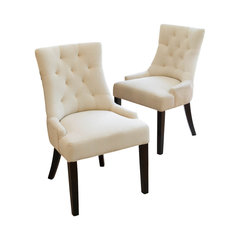 Janelle Tufted Dining Chairs, Set of 2
Dining Chairs
Love these chairs!: So the chairs don't have nail heads which I like because I don't like the look of nail heads. There are also no buttons which is nice because you don't have to worry about buttons falling out. The chairs did not come assembled, had to put the legs in using screws and Allen keys. It wasn't hard but a little time consuming. I was afraid the chairs would be wobbly but they aren't. The seats are a little wide so I actually can't push them in all the way under by table at either end. I really really like them!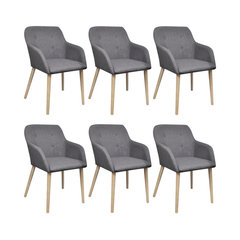 vidaXL Set of 6 Fabric Dining Chair Set With Oak Legs, Dark Grey
Dining Chairs
An issue to be noted: These are excellent value dining chairs as a set. However, the 'fire safety' labelling is sewn into the side seam and clearly visible so needs to be removed to make the chairs fit for purpose. The labels should be sewn in underneath the seats.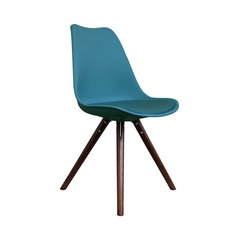 Scandi Style Dining Chair, Pyramid Walnut Legs, Teal
Dining Chairs
Great chairs but missing fixings: The chairs are very lovely indeed and we love them, problem was we didn't get the correct fixings for them so needed to contact the seller to have extra sent to us. The seller was very prompt in replying and so far we are happy with our orders as obviously not sat on the chairs yet as couldn't put them entirely together!